---
Pietermaritzburg Fun Rally 2019
By Cally Eckard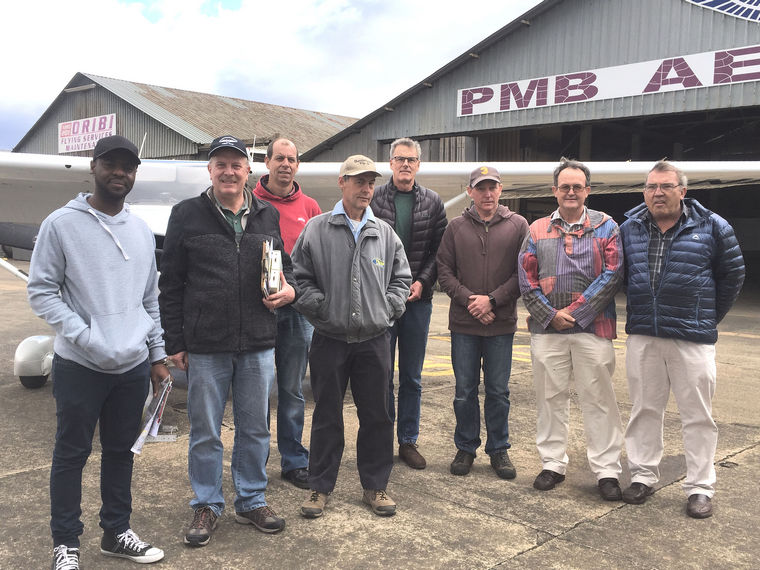 Some of the contestants gathered in front of one of the three club aircraft before the first team took off. From left: Curtis Mutambo, Martin Hellberg, Ian McDonald, Dave Taylor, Mike McDonald, Johan Riekert, Chris Nicholson, and Competition Director Frank Eckard. 


For the first time in 24 years, Pietermaritzburg Aeroclub held a Fun Rally. Frank Eckard, who got his PPL at the club 32 years ago and was on the committee for seven years, has lots of very fond memories of his years spent there and was thrilled to set up a rally on his old stamping ground. 

Martin Hellberg, who was Frank's first navigator and who competed with him in Denmark in 1995, was one of the competitors. Unfortunately, the turn-out was low, despite valiant efforts by club Chief Flying Instructor Telani Lithgow while the predicted weather put some crews off.

Five brave teams eventually took off after a delayed start due to low cloud and all received excellent scores, missing only one turnpoint each - a fabulous feat for first-timers. The route started at a turnpoint near Thornville, crossing the ridge at Richmond, then turned South before joining the Umkomaas and following the valley, then back to Pietermaritzburg via Eston.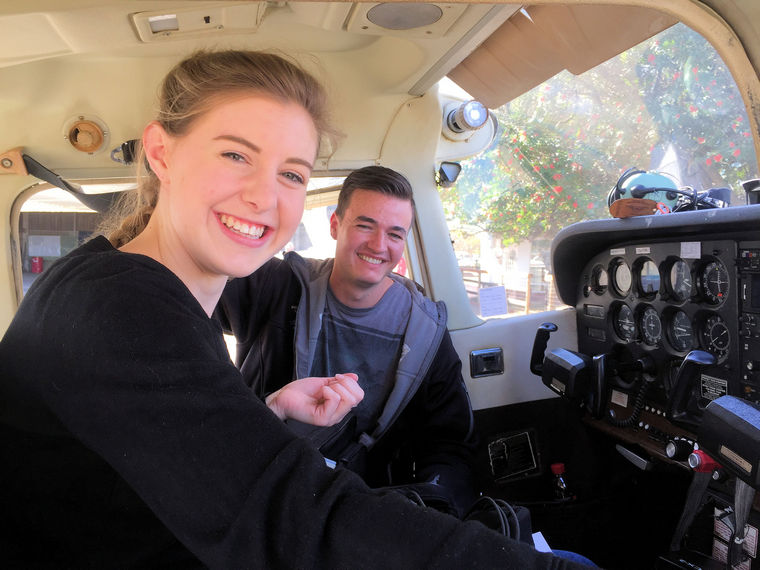 Lara Denton and Adam Winter arrive back at the airfield after the rally.


Unfortunately for Adam Winter and Lara Denton, they had problems setting their clock, and joined the "One-minute Club" - flying the entire route one minute late. This sadly put them in last place, but taught them a valuable lesson they are probably never going to forget. Chris Nicholson takes part in anti-rhino poaching excursions, so was well-prepared for flying low-level VFR, and achieved a fantastic score. Curtis Mutambo, who is working hard on getting his CPL learned a lot of techniques from Martin Hellberg, who was impressed at how much technology has changed the sport.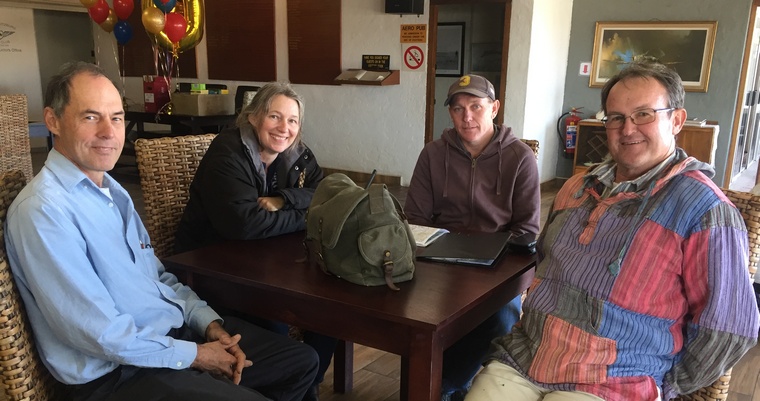 Waiting patiently for their results, whilst recalling their experiences during the rally, Chris Nicholson and Dave Taylor (front) with Telani Lithgow and Johan Rikert (back). 


They all arrived back at the clubhouse begging for another rally to be held soon and are sure to inspire and encourage other pilots in the area. It would be a great event if surrounding clubs would also get involved, as Pietermaritzburg is quite central in KZN and has a large flying area.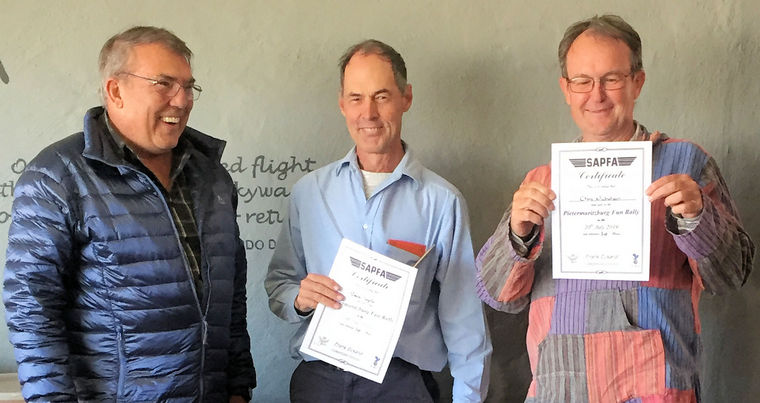 Winners with a terrific score of only 384, Dave Taylor and Chris Nicholson.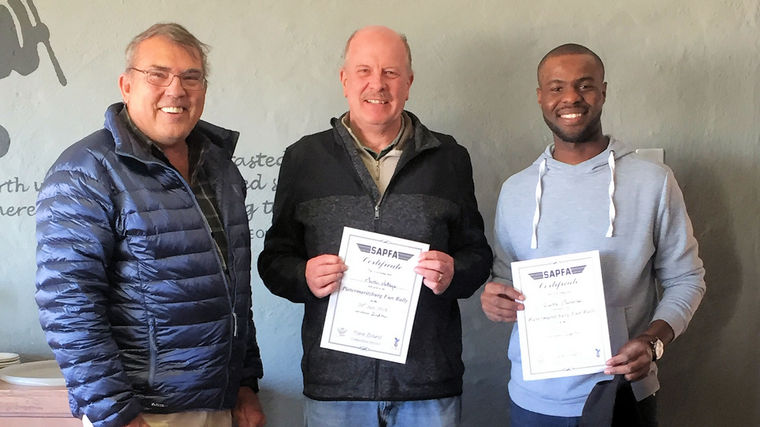 Second place went to the team of Martin Hellberg and Curtis Mutambo.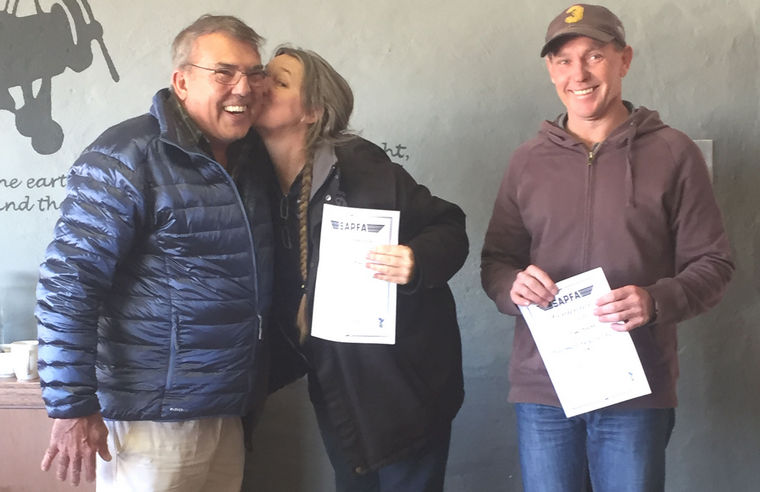 A very grateful third place kiss from Chief Flying Instructor Telani Lithgow and Johan Riekert.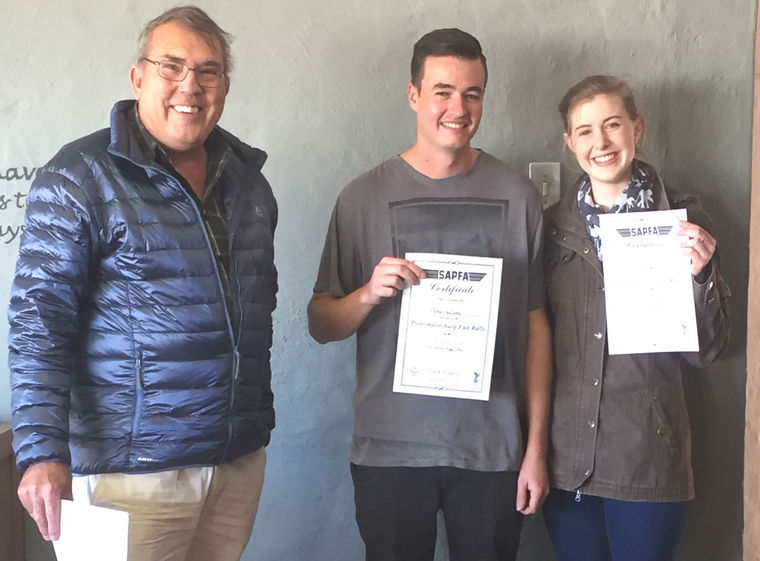 - The team of Adam Winter and Lara Denton were placed fifth after an unfortunate timing error. 

RESULTS 

POSITION PILOT NAVIGATOR AIRCRAFT POINTS
1 Chris Nicholson Dave Taylor Sling2 384
2 Martin Hellberg Curtis Mutambo Cessna 172 507
3 Johan Riekert Telani Lithgow Sling 2 579
4 Ian McDonald Mike McDonald Cessna 172 625
5 Adam Winter Lara Denton Cessna 172 641
---
Sheila Taylor ANR Rally - Krugersdorp 2019
By Cally Eckard and Photos by Willie Bodenstein
Competitors and organisers.


The Sheila Taylor Trophy has traditionally been held as a Fun Rally event, but Krugersdrop members asked if SAPFA could provide something simpler, quicker and more fun. So event organiser Frank Eckard offered an ANR, or Air Navigation Race.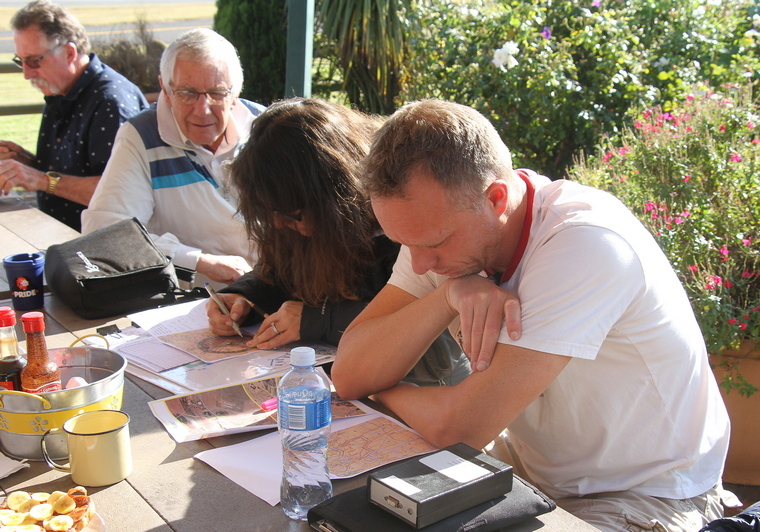 Preparing for the race.


An ANR is similar to a fun rally, but without the photographs, and without time penalties at each turnpoint. Instead of flying from one turnpoint to another, the team must fly along a 0,5NM wide "corridor" which zigzags across the map. They are timed at the Start and Finish points only, and are penalised if they travel out of the bounds of the corridor. The route is much shorter than a rally, and is therefore a cheaper sport.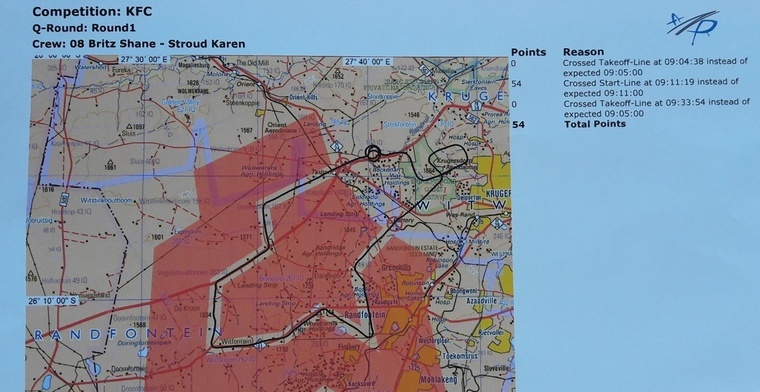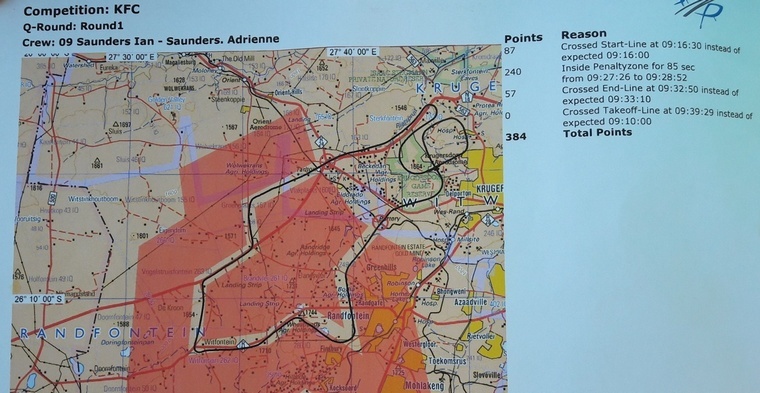 The route showing the track of two of the competitors.


Frank set up two rounds, the second round being optional, for those who felt like getting some practise in.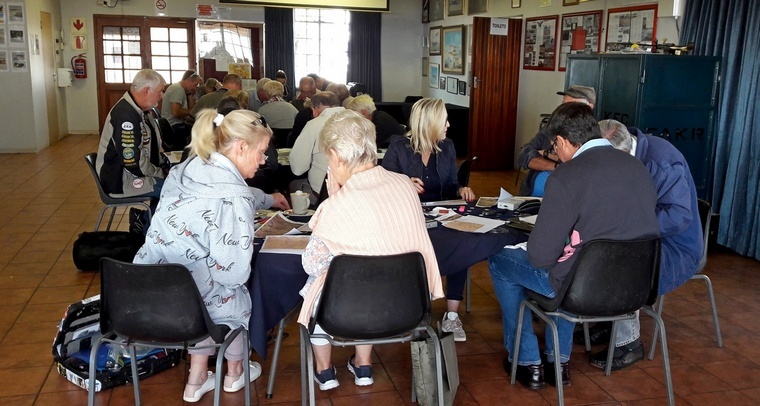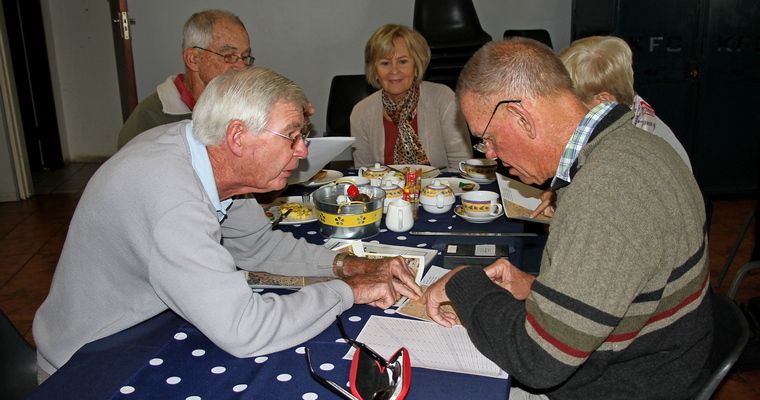 Participants hard at work. 


The weather was absolutely perfect, with not a cloud in the sky, and perfectly still. KFC were all on board, with nine of their teams taking part, and many supporters enjoying the breakfast and special coffees available in the clubhouse.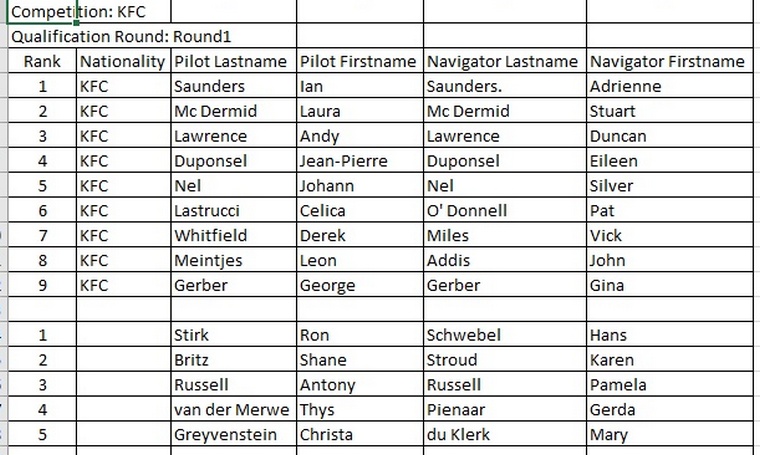 The results.


Five teams from out-of-town also flew in for the day, to try their hands at this relatively new version of the sport, some of them aiming to be selected at ANR Nationals in Brits in July, to represent South Africa in Portugal in September at the World ANR Championships.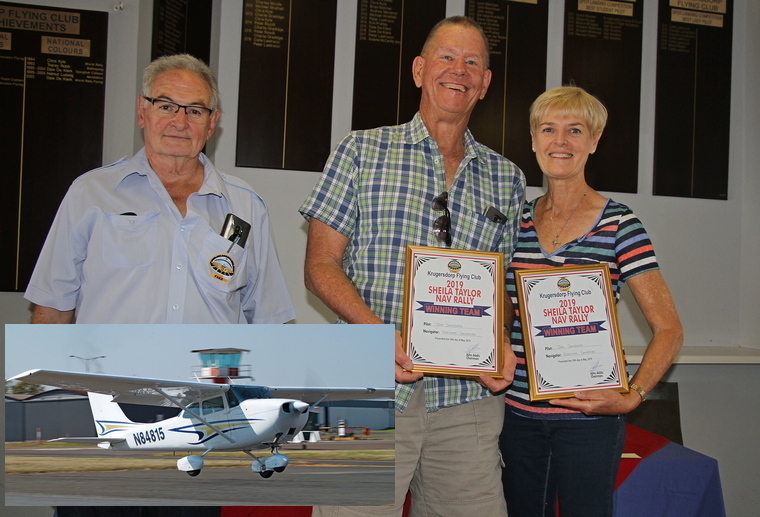 Ian and Adrienne Saunders KFC 1st place.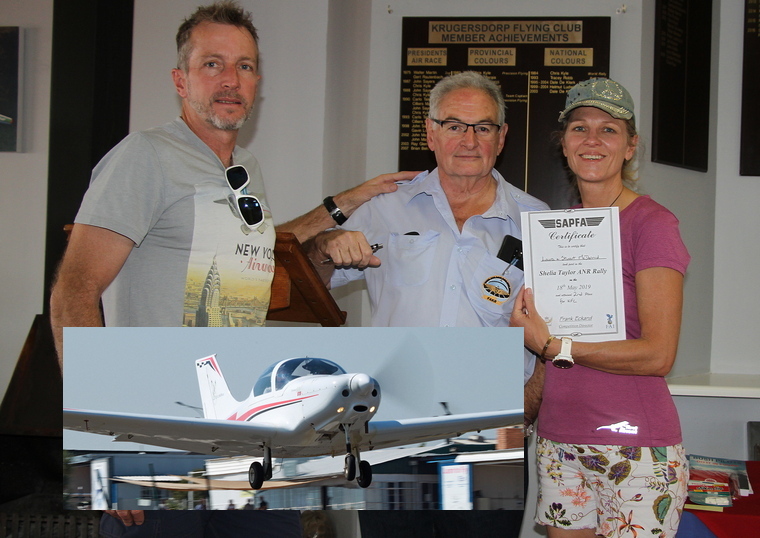 Steve and Laura McDermid KFC 2nd place.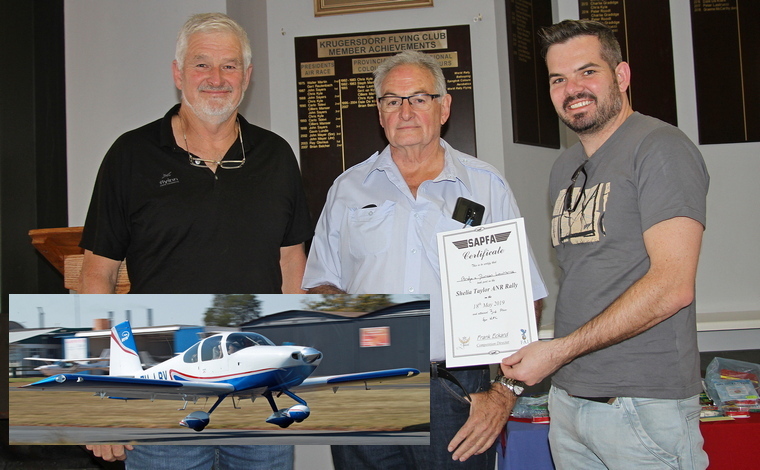 Andy and Duncan Lawrence KFC 3rd place.


Interestingly, there were some aircraft not usually seen at ANR events - a helicopter, a gyrocopter, a Pioneer 300 and an RV10. The speed for an ANR is usually 80kts, but some of these aircraft had nominate different speeds, and Frank had to accommodate these manually. 


Hans Schwebel and Ron Stirk 1st others.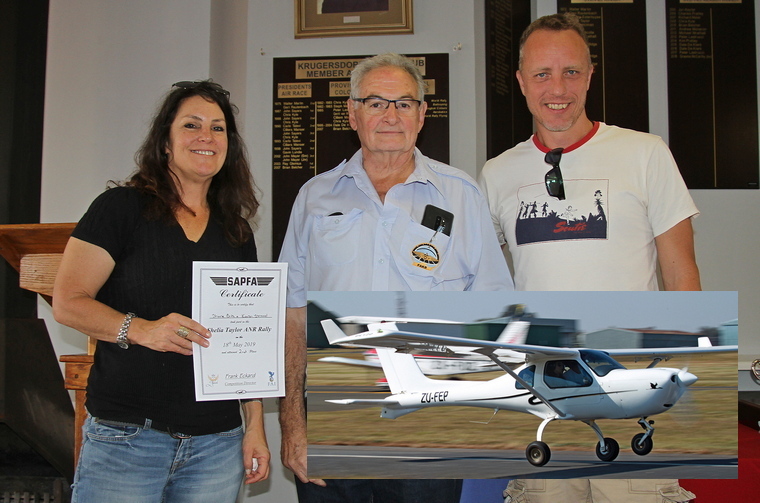 Shane Britz and Karen Stroud 2nd place others.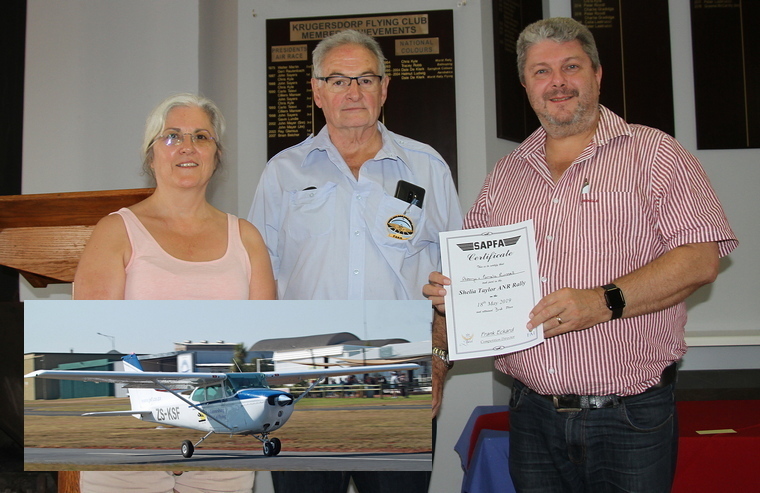 Pamela and Antony Russell 3rd place others.


It was heartening to see so many lady pilots and navigators, husband and wife teams, and father and daughter teams. Flying is definitely becoming more of a family sport, and this is a good thing. 

Please look out for the dates for the ANR Nationals in Brits - all are very welcome. 
---
---
The 2019 Edition of the PTAR was held  3rd & 4th of May 2019 in Saldanha Bay
Go to this page for more details http://www.sapfa.co.za/index.php/presidents-air-race
Link to the PTAR facebook Page https://www.facebook.com/presidentstrophyairrace/
---
Overall Results
---
---
Trophy List of Awards
---
---
---
2019 National Rally Flying Championships-Stellenbosch
By Cally Eckard

Early April found all South African rally flying hopefuls converging on Stellenbosch Flying Club for the 2019 Rally Flying Championships. Unlike other years, 2019 is not a selection competition, but was regarded as a training event, and a measurement of progress on the long road to the next World Rally Flying Championships which will be held in Stellenbosch in November 2020. Entering a local world event is an once-in-a-lifetime opportunity to participate in a competition that would earn Protea colours.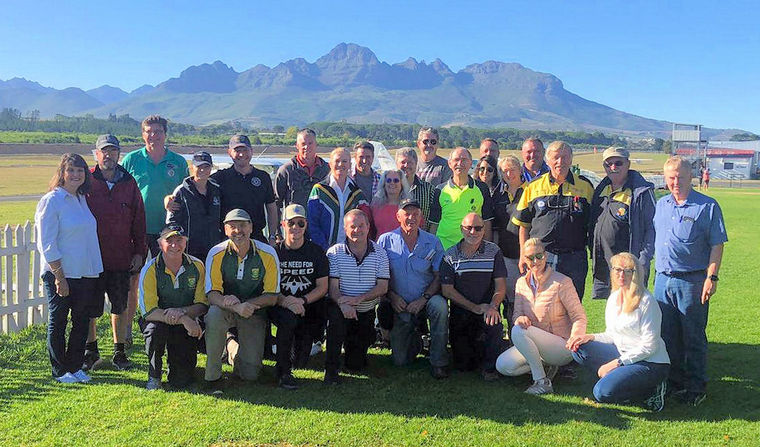 Contestants gather at Stellenbosch airfield against the backdrop of the mountains before setting off on the second day's route at the 2019 Rally National Championships last weekend

SAPFA has revealed that it would like to select as many as ten teams to this prestigious event, and it is looking for "new blood" amongst the rally flying fraternity. To this end, the organisers have been "head-hunting" prospective teams from recent rallies, and Speed Rallies. They have invited them to training sessions on plotting the routes, the role of the pilot, communication in the cockpit, and photo recognition. This resulted in a very large field of 17 crews, the largest in recent years for Nationals, some of whom have flown only a few rallies.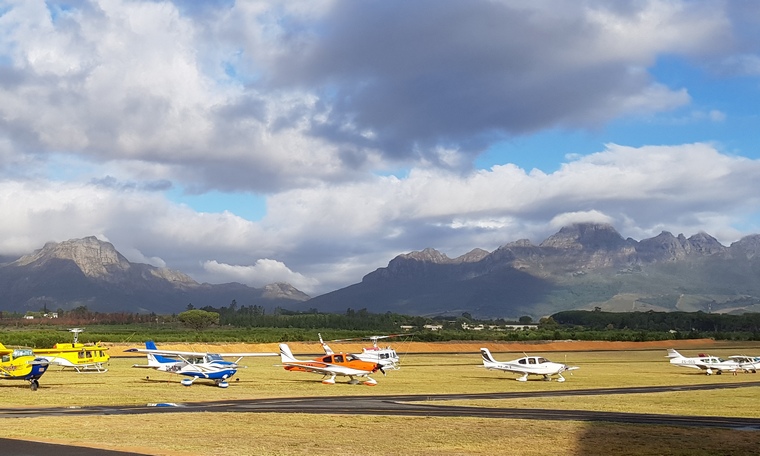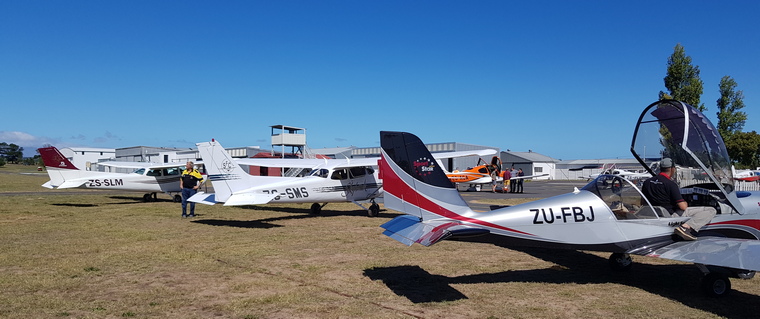 Competitor's aircraft parked at Stellenbosch Airfield. Arguably the prettiest field in the country 


A team of very young local pilots experienced their first rally on Friday in Class 3 category, then went on to fly their first Class 1 rally the next day, and managed very well. They were Jovan Barkenhuizen and JD Stofberg from Cape Town, and were severely disadvantaged by flying their Rockwell Commander at a ground speed of 115 knots. Jovan was first introduced to Speed Rallies at Morning Star Airfield a few months ago, where he took first place.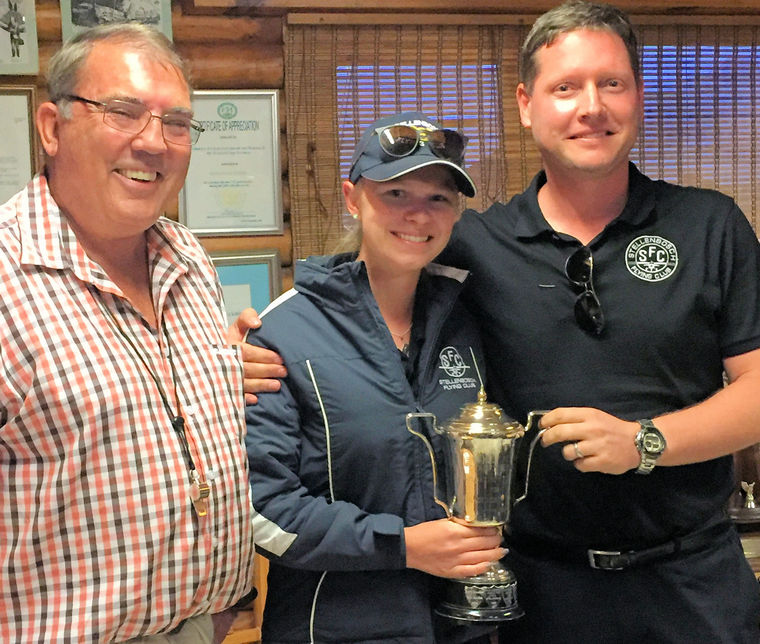 Stellenbosch Flying Club's own student Ashleigh Prinsloo and Marko Nel, her instructor, couldn't have been prouder to win the landing trophy, scoring two perfect "bingo" landings


Another local team was that of Marko Nel, chief flying instructor, and his student Ashleigh Prinsloo from Stellenbosch, who are one of the teams to look out for. Ashleigh blew everyone away with her landing score of 2 bingos, and for this they walked away with the Landing Prize.

Our competition also attracted a team from Austria, consisting of Walter Dworschak and Michael Riedel. Unfortunately their licence validations were not available in time, so they had to fly with a local pilot. However, they thoroughly enjoyed the challenging routes and beautiful scenery, and will be back for the next championships. 

The other team which must be mentioned is that of Nigel Hopkins and Mary de Klerk. Mary, a Protea pilot and navigator in her own right, well known in Rally and Precision circles all over the world, has teamed up with ex-rally pilot Nigel, who has made a name for himself in recent years in the aerobatics world. Nigel has returned to Rally, and it seems his skills are as sharp as ever. With Mary's broken shoulder strapped up, they still managed to win the championships with a very impressive performance. 

The competition was supposed to begin on Thursday 4 April, but the weather was unsuitable for any kind of flying, so Mary de Klerk took the opportunity to fit in some extra training for the less experienced pilots and navigators, who afterwards all agreed that what they learned was invaluable.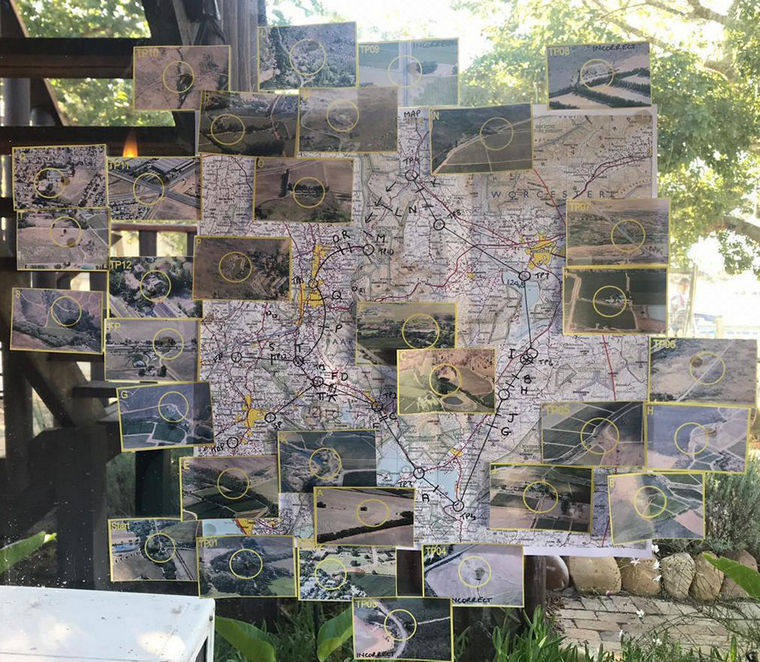 The master map, showing the route, turn points, ground targets and observation photos on the second day's Mountain Route 

Friday's weather was somewhat clearer, so it was decided to fly the "Bad Weather" route, which took the teams to the North of Stellenbosch, in a clockwise track towards the coast, narrowly skirting around the South of Fisantekraal, then Eastward towards Riebeeck-Kasteel, following the railway line towards Wellington, then heading back towards Stellenbosch. Navigation in this area was very difficult, especially for up-country pilots who are not used to the small farms and details in the terrain. 

The results for Day 1 were:




Day 2 brought clear skies and no wind - a perfect day to fly the Mountain Route, a spectacular tour which began from Stellenbosch, leading down the Franschoek valley, over the Franschoek Mountain, over Theewaterskloof Dam, and Villiersdorp, over Kwaggaskloof and Brandvlei dams South of Worcester, Northwest along the Breerivier then turning back over the mountains by way of the Bain's Kloof Pass, carefully following two "arcs" in opposite directions over Wellington and Paarl, finally ending at a railway station North of Stellenbosch. Unfortunately for the navigators, the plot was very difficult, and some were completely flummoxed by it. However, it was a good lesson in how to cope with a world-class route under challenging circumstances. 

Three teams competed in Class 3, which on this occasion merely meant that they plotted on the ground instead of in the airplane. Their scoring was the same as Class 1, and their observation targets were the same.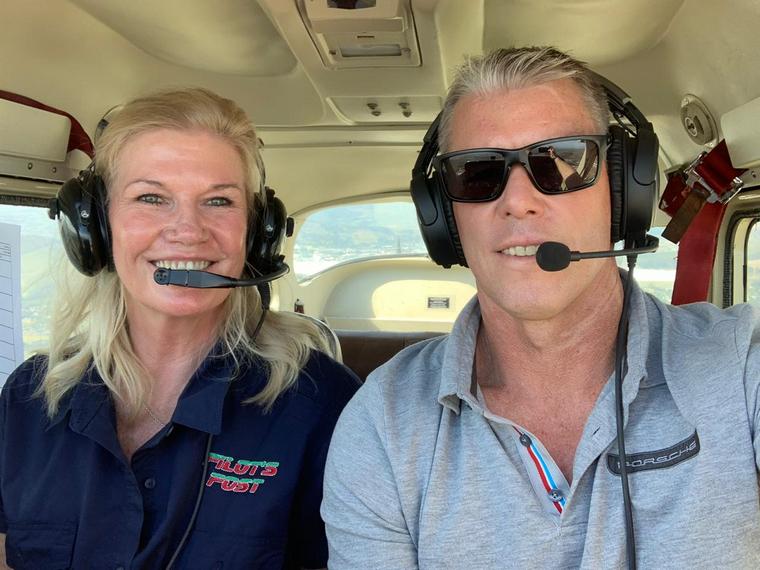 Mary de Klerk, a Protea pilot and navigator in her own right, well known in Rally and Precision circles all over the world, has teamed up with ex-rally pilot Nigel Hopkins, who has made a name for himself in recent years in the aerobatics world. Nigel has returned to Rally, and it seems his skills are as sharp as ever


Challenges that were insurmountable for two of the crews were flat tyres and broken brakes, meaning that the up-and-coming teams of Chris and Ryan Shillaw in their Cirrus, and Leon Bouttell and Karen Purchase in their Sportstar were sadly out of the competition before their day began. However, all intend to fly the route on their own in order to gain experience.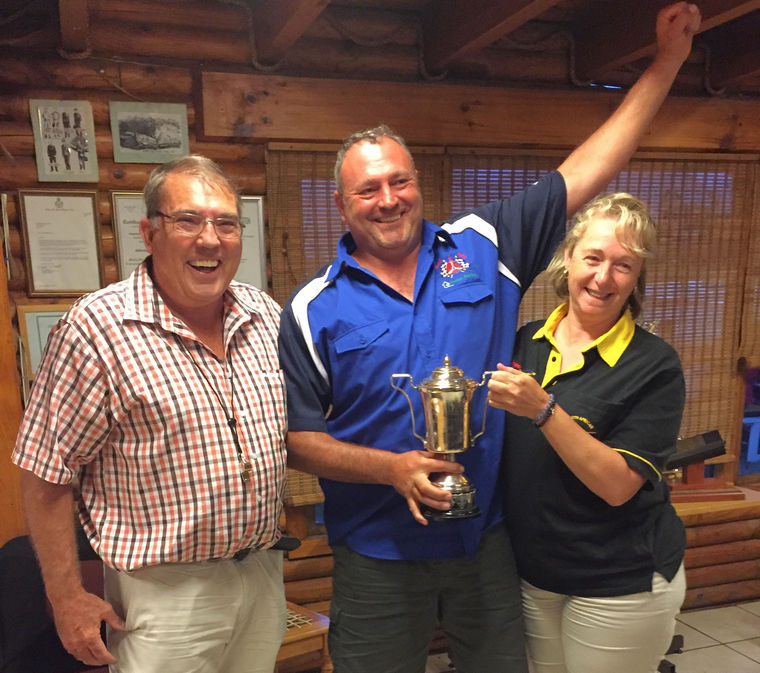 Jonty Esser and Sandi Goddard have represented South Africa for several years in Rally Flying, and were pleased to receive their medals for third place in the championships this year

The results for Day 2 were:



The Chief Judge and organisers then had the privilege of announcing the winners of the event at an informal ceremony on the Saturday evening, after which the club organised a braai for the competitors and organisers.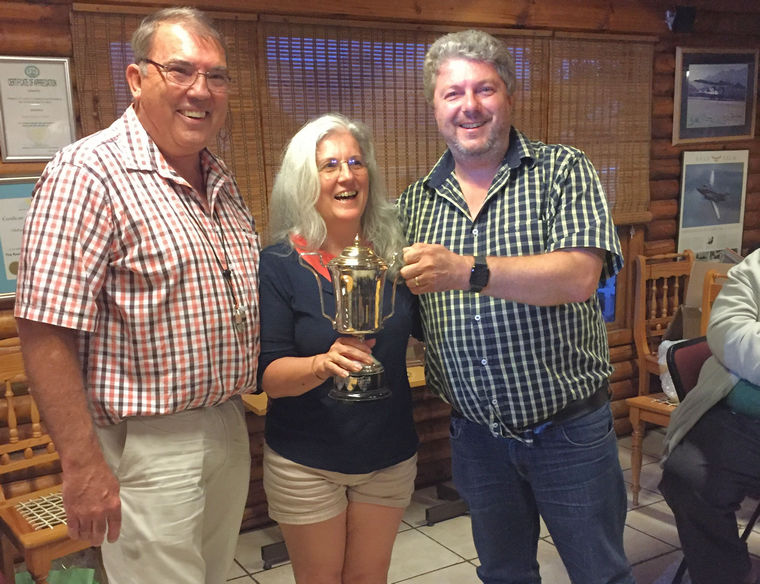 Tony and Pam Russell have been practising very diligently on their rally skills over the past few years, and were thrilled when it finally paid off and they achieved second place

The overall results for the championships were: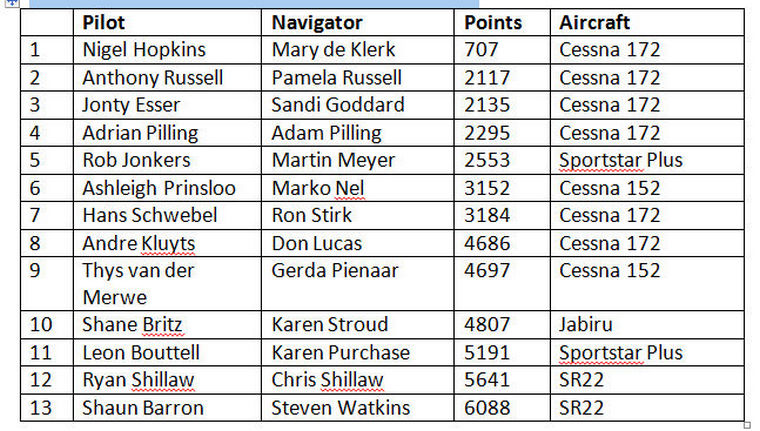 The overall results for Class 3 were:




These championships were a wonderful opportunity for the pilots and navigators to learn to fly and navigate in the Stellenbosch terrain, but it was also a vital chance for the organisers of the 2020 Nationals and the World Championships to get the lie of the land. Mary de Klerk and Colin Jordaan, Director and Deputy Director were able to meet up with local sponsors and with the management team of Stellenbosch Flying Club; Route Planners Frank and Cally Eckard were able to practise setting and scoring routes in the area; and Judges Deon van den Berg and Jacques Jacobs, Ursula Schwebel and Barbara Friebose were able to see what needs to be done at the airfield to make Stellenbosch suitable to hold a World event, and to meet up with local club members who wish to avail themselves to be marshals at the World event.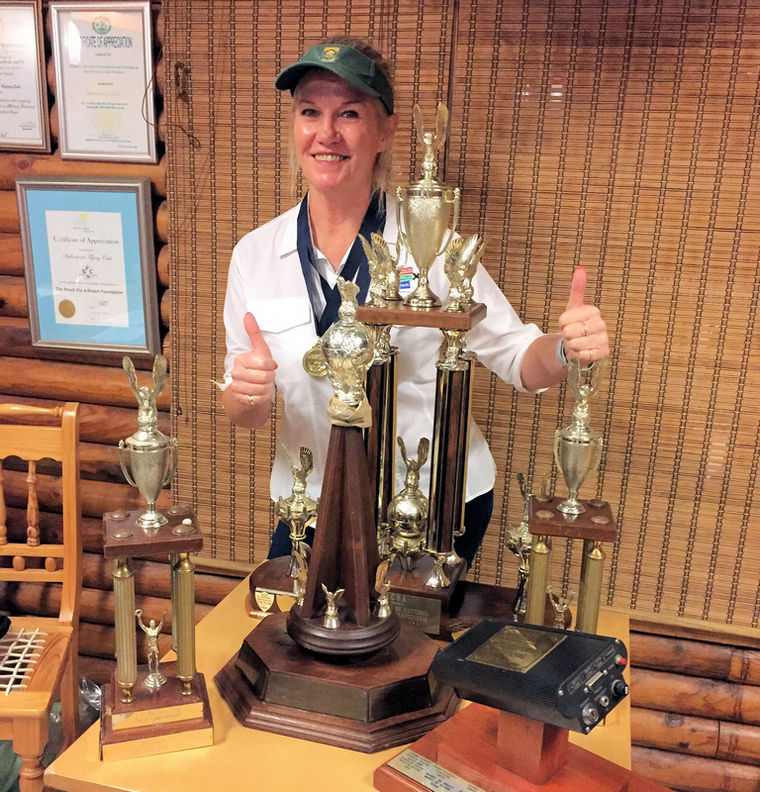 Mary de Klerk and Nigel Hopkins (absent) were proud winners of the 2019 National Rally Flying Championships, beating the competition by an astounding 1410 points


Stellenbosch Airfield, under the organisation of Rikus Erasmus, Anton Theart and Frank Olsen is probably one of the most beautiful and well supported in South Africa, and definitely worthy of holding a World class event. 
---
---
 By Rob Jonkers, Photos by Cheryl Smit
The South African Power Flying Association held a very successful Speed Rally at the Aero Club Airweek 2019 at Middelburg. Originally scheduled as an Adventure Rally as was held in 2018, SAPFA decided to change this to a Speed Rally given the popularity of the event, with this one being the 4th in the series.


Within days of the announcement, the first 28 places were snapped up by competitors having taken part in the previous events, not leaving any room for new entrants and it was decided to extend the field from the original maximum of 30 to 35, with an opportunity for the local Middelburg club members to take part. This event is one that is flown at full speed under handicap conditions and the course is around 120 nm long, has 11 or so turning points, with each turning point identified with a correct photograph.


Planning got underway in February to prepare the route, keeping in mind that with the Airweek as an event and an Airshow to coordinate with, in terms of take-off and landing slots of other arrivals and departures made the details challenging to plan. The route was kept to the north and east of the airfield, as most inbound and outbound traffic would be from the west.


Friday saw a fairly full day of test flights with some repeat test flights to reconfirm handicaps, with conditions mostly favourable although the cloud base was low in the morning. After the Safety Aviator Presentations which started just after 2 pm, Mary de Klerk had arranged to hold a training session on how to fly a Speed Rally and which was very well attended, and included a practical map preparation session on an example map, sharing the tips and tricks of how to follow the map features and timing points.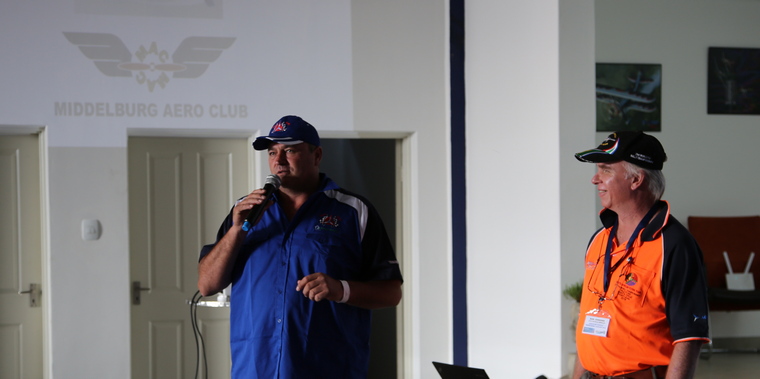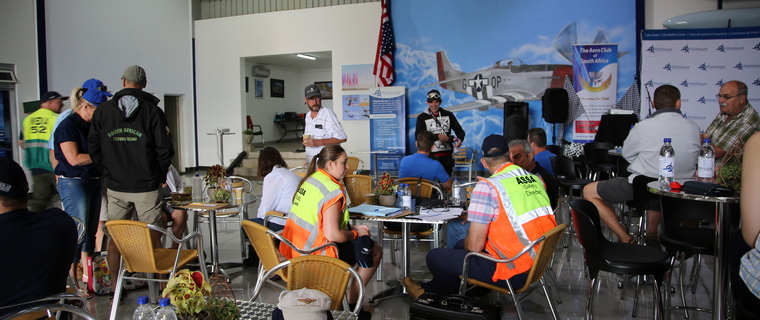 Thereafter at 6h30, Jonty Esser as the Race Master introduced Rob Jonkers who took to the stage and provided a briefing on what to expect for the next day in terms of the planned route, how many turnpoints, distance, departure and arrivals protocol and also how the scoring system would world work with expected weather conditions, which looked as if it would be good.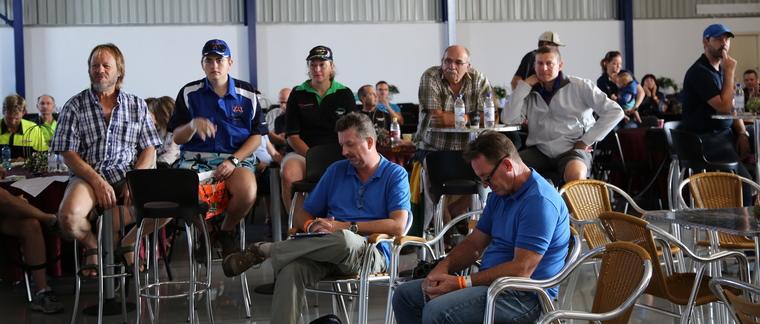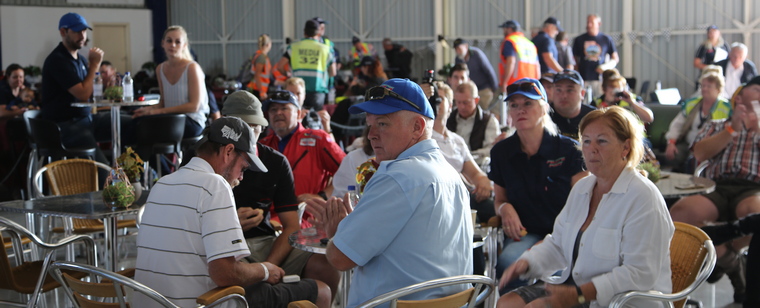 Then all the competitors were treated to a briefing on Steroids on Friday night with the Speed Rally Race Master Jonty Esser having set up a show for the teams with a real life lights, camera, action sequence where each team were introduced with their team theme song and handed their race numbers. Jonty also introduced the teams to the Speed Rally website where a Speed Rally ranking system was created with team profiles and their leaderboard position. 


The evening ended with a braai hosted by the Middelburg Aero Club, before retiring for the night. Some were camping under the wing or in Neil Bowden's tent area. Saturday morning saw low cloud and some fog although it started to lift and clear fairly soon, giving a go ahead to start the rally.


The briefing started at 8h30, which was a shortened version just to cover the basics of the route, radio procedures and weather. With the briefing over teams prepared their aircraft, with marshals assisting in parking sequence while the organisers got the papers ready. Each team would then receive an envelope with a map, turnpoint photos, a minute marker and a GPS logger to record their track. Aircraft were then also scrutineered with all portable electronic devices sealed up in bags and although no onboard systems were disabled, it relied on an honour code to not utilise onboard GPS as a Navigation aid. The course is was however designed in such a manner that GPS would be of minimal benefit.





The Rally line up getting ready to start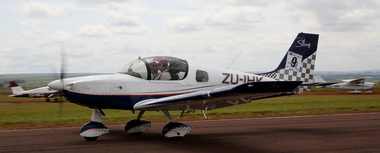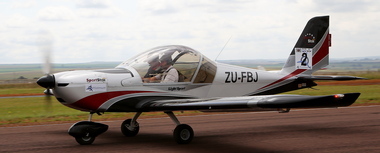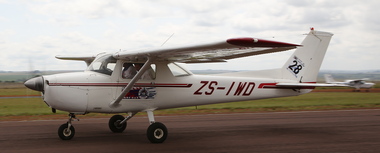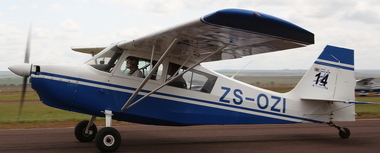 The intent is that everybody uses the basic skills of navigation plotting and flying and operate as a team in terms of cockpit workload, and with the course layout boasting short legs it for sure makes the crew resource work sharing all the more important. The idea would be that each crew would receive a pre-plotted map already complete with the route, turning points, headings and altitudes where the map would not have any lat/long or grid references. This would be provided 20 minutes prior take-off to allow route orientation and the plotting of minute markers.









In this format, there are two objectives:- fly against a pre-determined handicap speed for each aircraft fly the shortest route around the course which would consist of a minimum of 10 turning points. Any aircraft would be able to compete, from slower LSA aircraft to the fast turbo singles or twins. The idea would be to test the speed capability and navigation skills of each crew against each other, where the most accurate flying and turn performance management would win the rally.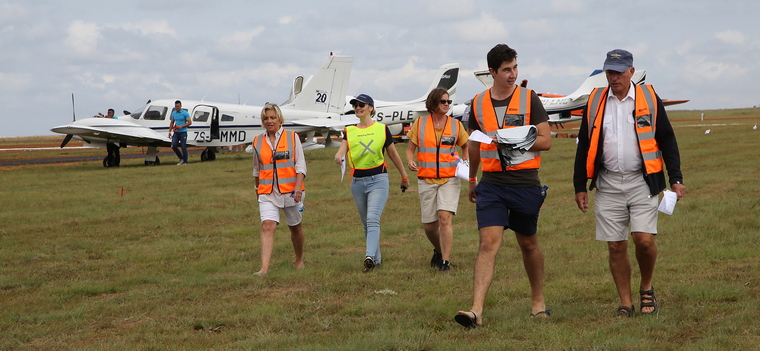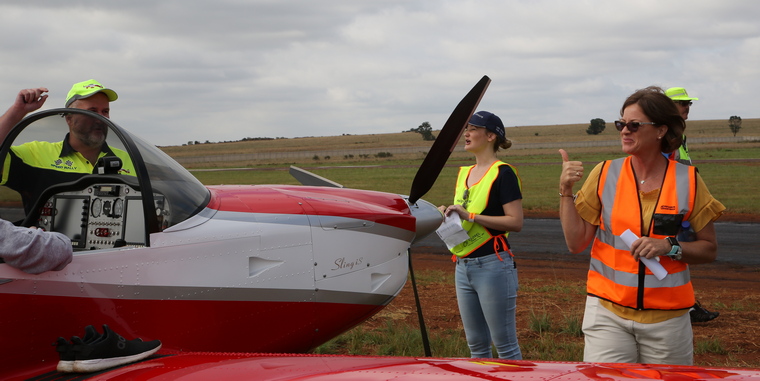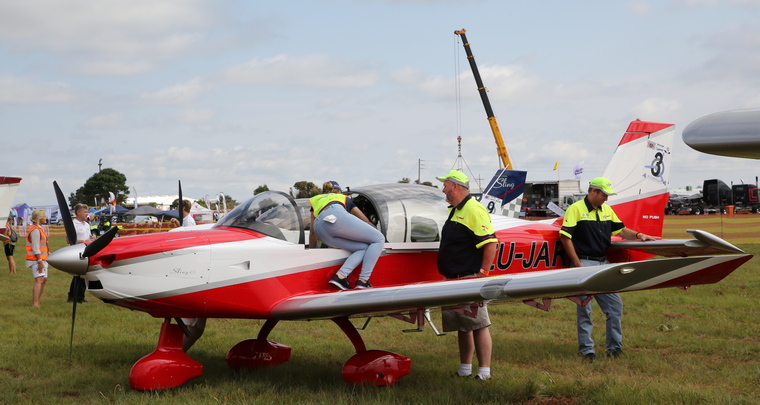 The scrutineers checking for illegal aids


Scrutineers Chareen, Lizelle, Jean, Conrad, Frans and David were on hand to seal up all portable GPS capable devices, and also handing out papers at the allotted time time while simultaneously also checking that the fuel tanks were full. To assist the teams at getting their take-off roll accurate, a starting colour panel was used which was set up next to the start line on the runway by Chief Marshal Hans Potgieter and Mark Clulow, which would release them at their allotted time slot. Each team then received their envelopes with their loggers at their 20 minute prior to take-off time, and then taxi to the starting line within 10 minutes of take-off time. 1st take-off was at 09h55 for the slowest aircraft and last take-off at 10h50 with a planned arrival at 11h30. It was calculated that the fast Cirrus ZS-ACA would only need 40 minutes to complete the course.



With all the competitors off towards the north, the route had a mix of easy and challenging turnpoints to contend with to give competitors a chance to always be aware of where of their posistions. Some turnpoints were a challenge find, especially if the colour of the surrounding ground features had changed since the photos were taken. Although Turnpoint 2 was essentially along the road going past the airfield, it was still difficult to find apparently given how many were searching for it. Quite a few competitors cut the corners on turn points including Phil & Mary who during her training session warned everybody to "go round the TP".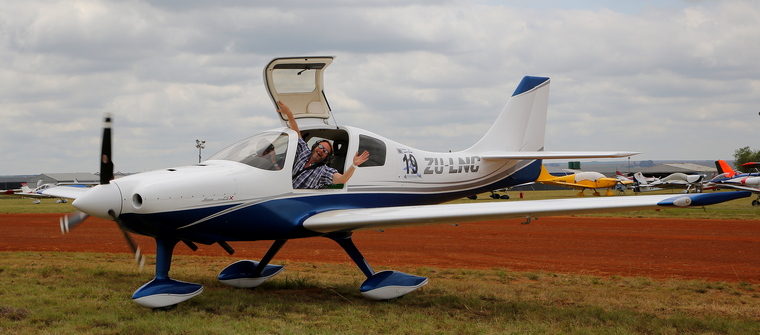 After all teams having returned and safe on the ground, the scoring team got to work to analyse the results, and with the new loggers, were able to complete the scores by 1 pm, after which everyone was given their score sheets. Prize giving would only be in the evening so the teams and officials could enjoy the Airshow for the afternoon.


With everybody settling in for the VIP dinner hosted by the Middelburg Aero Club and opening speeches and starters enjoyed by the guests, the prize giving was coordinated by Jonty Esser acting as the MC for this time slot. Firstly aircraft judging certificates handed out by EAA's Sean Cronin and thereafter a showing of a number of interesting flight tracks given by Rob Jonkers which for this rally turned out overall to be very good, with only one competitor having had some navigation trouble and for sure the overall standard is improving, with all aircraft over the line within 7 minutes. As the teams were visible approaching the field, first in view was Jonty Esser in the slowest aircraft a Foxbat being chased down by Phil Wakeley in a C210, who crossed the line within 8 seconds of each other. Some other interesting facts were that the full field also completed the course with an average of 7 nm overflown and the best performance against handicap time was 25 seconds.

After this the Speed Rally promo video was shown after which prize giving commenced and which was hosted by Frans Smit from Pilot Insure who was this Speed Rally's main sponsor. First a Hard Luck certificate was handed out to Jaco Goosen whose C182 fell into a subterranean aardvark tunnel and damaged the horizontal stabilizer after which Jonty handed over the Club Trophy to Richardt Lovett and the Middelburg team.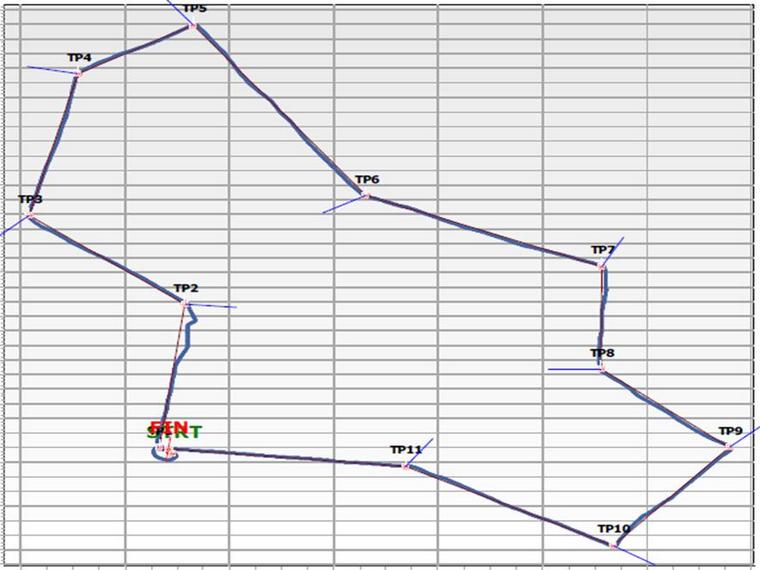 The winning track - ZU-DYE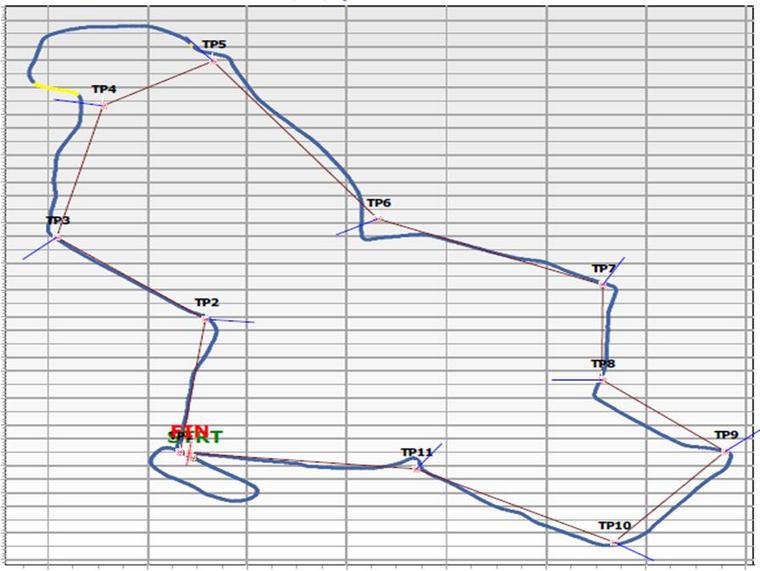 Having a bad day, but not bad considering the good recovery - ZU-LAX 


The overall winners in the best handicap speed were the team of Jonty Esser and Jonathan Esser in a Foxbat ZU-DYE. Second place was Arthur de Kock and Freddie van Rooyen in their Jabiru J430 ZU-MEL while Hendrik Loots and Jandre Loots bagged the final step of the podium in their Sling 2 ZU-IHK. The first fourteen placings were the only crews who managed a clean penalty free round.


The winners in the accuracy category were the team of David Ross and James Braid in their Sling 2 ZU-JAR. Second place was Johan van Eeden and Cor Esterhuizen in their RV7 ZU-IHH, and in third place the skopgat team of Ron Stirk and Von Hamman in their C150 ZS-IWD.


Many thanks to the Middelburg Aero Club for hosting this fantastic event, the SAPFA team of Hans Potgieter with the ground marshals, Nigel Musgrave as the Safety Officer, Dirk and Louna de Vos and Mark Clulow doing the scoring with our handicapping guru Chester Chandler, Chareen Shillaw, Lizelle Kruger handing out competition papers to the crews and to Jonty & Lizelle for putting together an awesome Friday evening launch event. Also thanks to Mary de Klerk for the time made available to do the training course held on Friday- it sure helped the teams to gain an understanding of what to expect.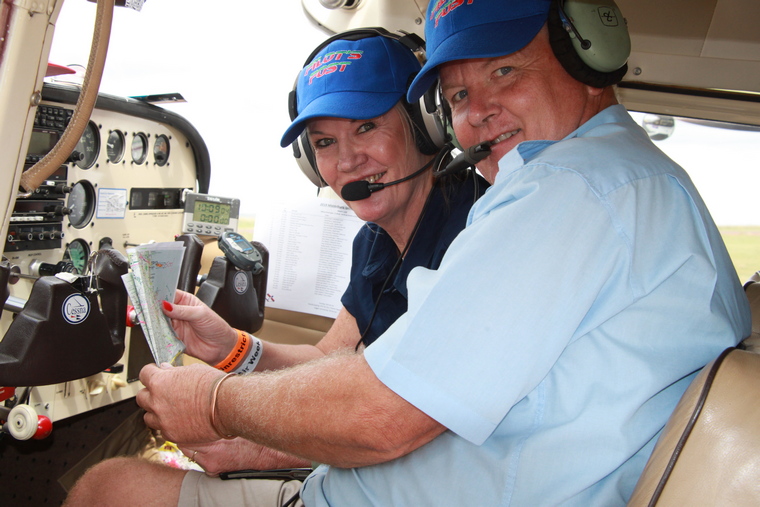 A big thanks to Pilot Insure who were the main sponsor of the event, Flightline Weekly for sponsoring the race numbers and also to Pilot's Post for sponsoring the team of Phil Wakeley and Mary de Klerk. Pilot's Post Willie Bodenstein provided three key reasons for why they entered into the sponsorship agreement. The first one being that the Speed Rally is being marketed as a brand and will be seen as the future of competitive flying. The second being that the Speed Rally brand will add value to their brand and thirdly that Pilot's Post believe that Phil and Mary are the perfect ambassadors for their and they will carry their flag high.

The next speed rally is in Bethlehem on the 8th June 2019

---