---
The 17th Rand Airport Challenge Nav Rally 27 Feb 2021
By Willie Bodenstein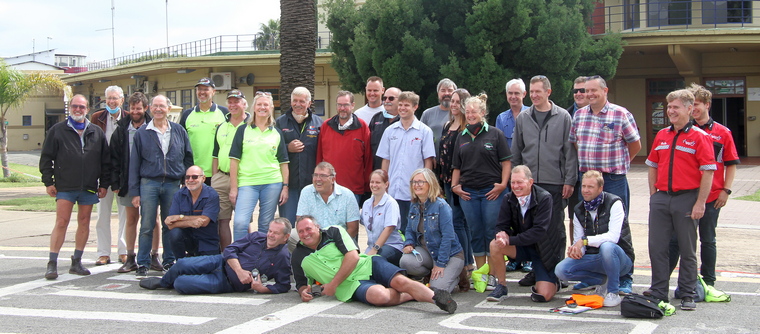 Thirteen teams, twelve in the Advance Class and one in Sportsman, entered for the Rand Airport Challenge that was postponed from January because of inclement weather. Althought not perfect on Saturday conditions were flyable and the first aircraft eventually took off almost an hour after the planned time. By then Ron Stirk and Hans Schwebel had withdrawn due to bad weather forecasted on their route home to Brits.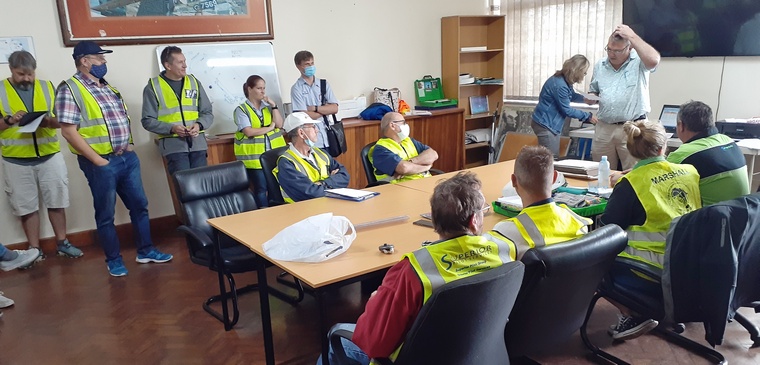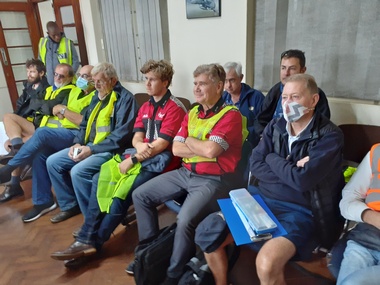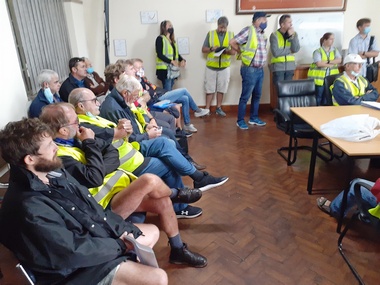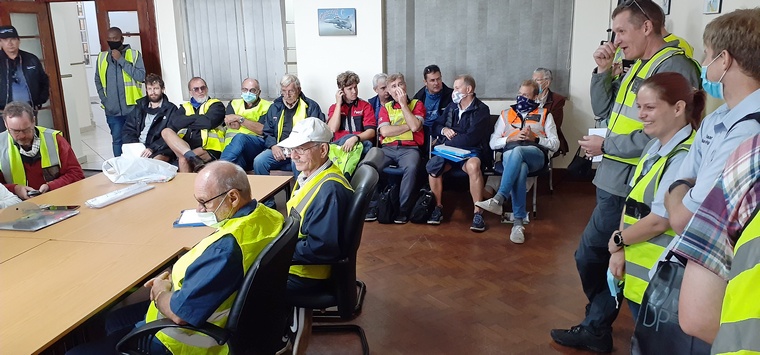 With the SAPFA National Rally Flying Championships set to take place from 15 to 17 Apr 2021 at Stellenbosch Airfield time is running out for teams to qualify for the 22nd FAI World Rally Flying Championship set to also take place at Stellenbosch from the 6 to 20 November 2021.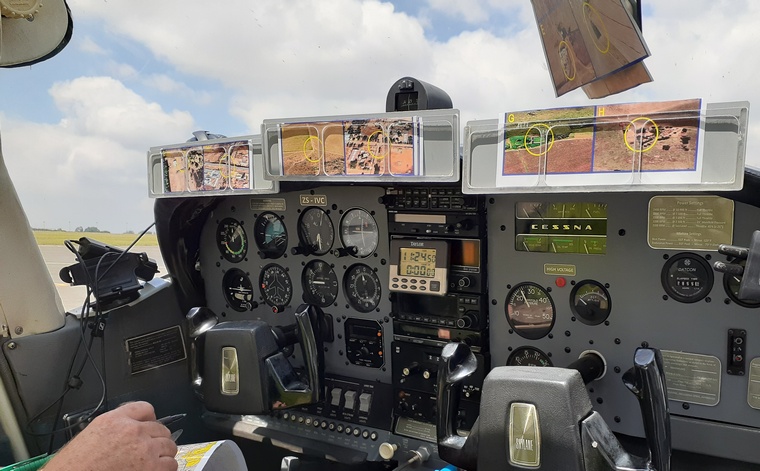 The cockpit of Rob Jonker's and Martin Meyers steed before the race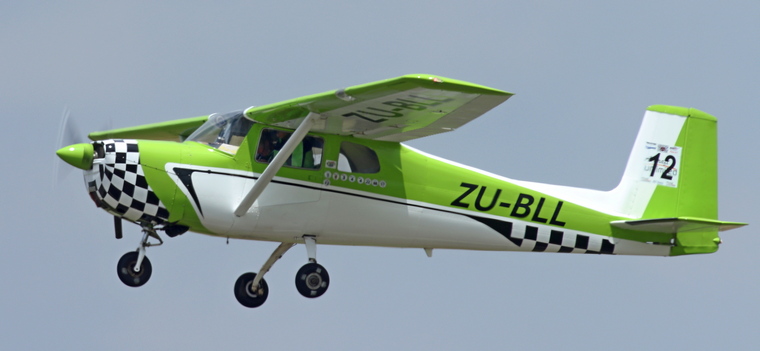 Jonty Esser and Sandi Goddard finished in 1st place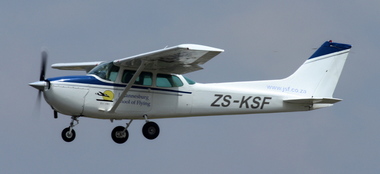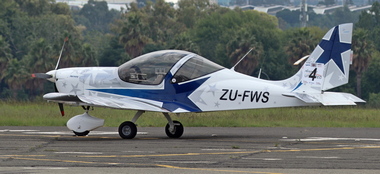 Adrian Piling and Mary de Klerk was 2nd I ZS-KSF after NBN went US……..3rd was Mike Heffill and Leon Boutell


4th went to Hendrik and son Jeandre Loots………Rob Jonkers and Martin Meyers was placed 5th


Piet Meyer and Adrienne Visser finished in 6th place


Saturday's route planned by Cally Eckhardt took into account the fact that most teams have had little experience this past year and that teams need lots of practice in order to be prepared for Nationals. Her route was a mixture of super-easy and quite challenging sections. This allowed for everyone to be able to focus on aspects of their game that they need to improve.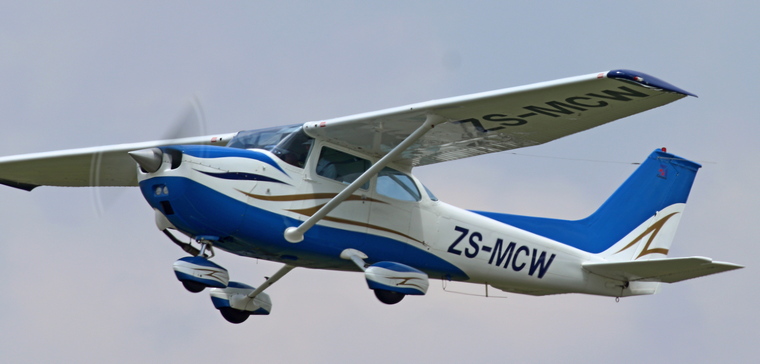 7th place went Andre Kluyts and Don Lucas




Father and son Ryan and Chris Shillaw 8th…………Fanie Scholtz and Herman Haasbroek 9th




Father and son Apie and Frederick Kotzee 10th ………………Tarryn and Iaan Myburg 11th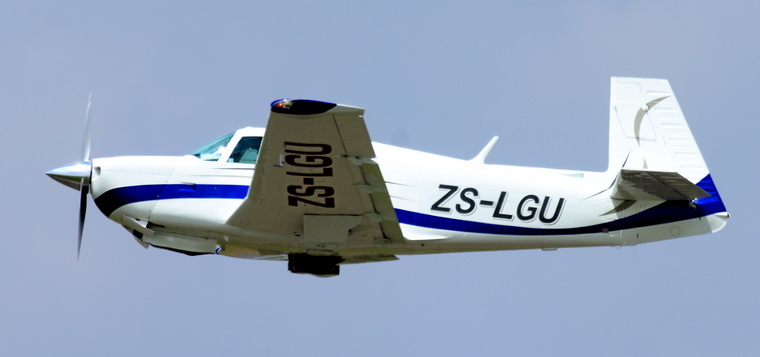 Stephen Sands and Neil de Lange were the only Sports man competitors


In order for teams to qualify for selection for the World Championships teams need to score less than 692 points. At this stage and with the results from yesterday's rally only one team would have qualified for selection.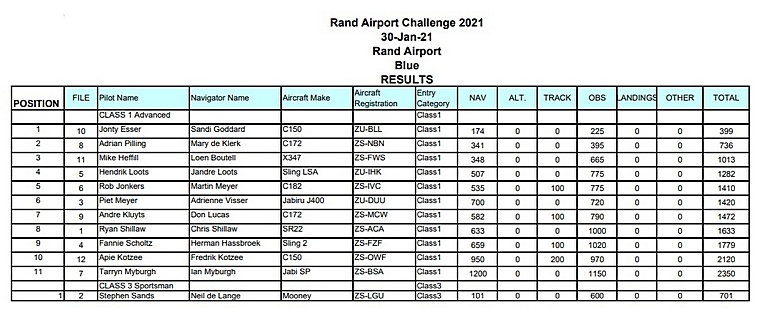 However, that said our local pilots will have the advantage of flying their own aircraft in terrain that most are familiar with. There is no doubt in my mind that Team SA will make us proud. We have after all been world champions in this aviation sport and has almost always performed admirably when under extremally difficult conditions when competing abroad.



---
---
The Aircraft Unlimited Witbank Speed Rally 2021
Text by Rob Jonkers.
Photos by Willie Bodenstein, Rob Jonkers and Russell Dixon-Paver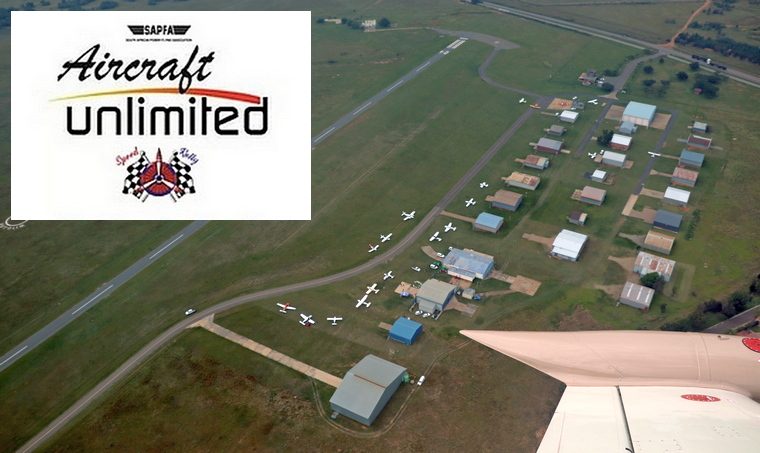 This first of the 3rd Season Aircraft Unlimited Speed Rallies for 2021 has been held at Witbank, organised by SAPFA and hosted by the Witbank Aeronautical Association. This event was held virtually a year ago at the same venue. The world of course has changed substantially since then, although it seems yesterday that we were last here. It has for sure been an event fraught with challenges, from the start of having to postpone it from the original planned date of 6 February as the last throes of cyclone Eloise was still drenching the Highveld, to having to line up a new support ground team (as many of the stalwarts were not available a week later), to having to ride through a number of mistakes on the day. Nevertheless, the end result was at least a safe and successful rally.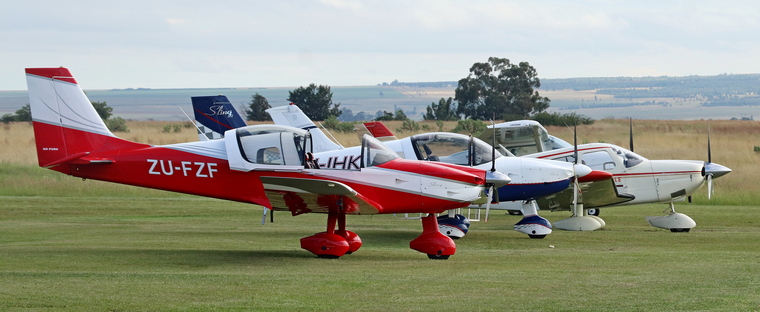 Some of the aircraft when we arrived


There were 30 entries, quite a full field given the current situation, with a number of local aircraft taking part. Three flight schools entered, Legend Sky from Rhino Park, Mach 1 from Springs and a large contingent with 5 entries from Bird Aviation based at Vereeniging Airfield. The weather outlook seemed to be poor, and on Friday the wind was pumping at between 15 - 20kts from the north-east with 6/8 cloud, with the forecast for Saturday giving low cloud with afternoon rain - seems the next tropical depression was on its way from the east coast.




More competing aircraft


The Friday afternoon initial briefing started at 18h00, with Rob Jonkers who took to the stage and provided a briefing on what to expect for the next day in terms of the planned route, how many turnpoints, distance, departure and arrivals protocol, and a weather outlook. After this Jonty did his signature event promotion of handing out race numbers, where after the club provided a nice dinner spread, before retiring for the evening.

When Kobus Jacobs on Friday after the test flights landed his Kitfox on the grass runway and found after stopping that he had somewhere picked up a puncture and that a wheel was completely deflated. That was no problem for the friendly people of the Witbank Aeronautical Society who in the spirit of aviation chipped in without being asked and soon the wheel was as good as new.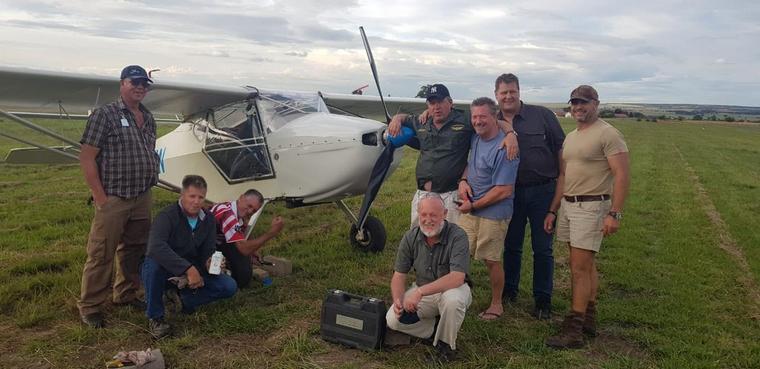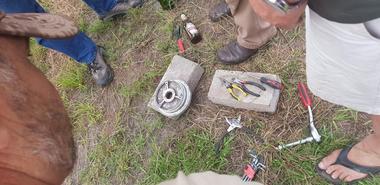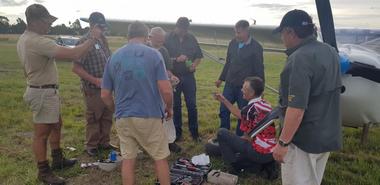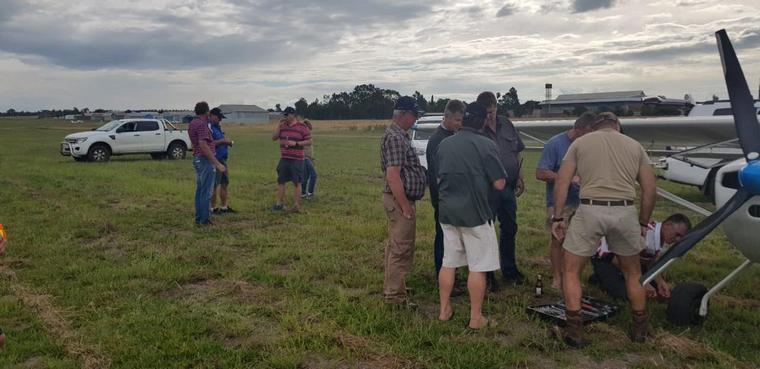 Saturday morning dawned with more promising weather, the predicted low cloud did not materialise, and by 9 am the cloud base had risen to 6500 ft, with a still strong easterly wind. The briefing was held at 08h00 am and was concluded at around 08h30, where everybody dispersed first for a group photo and then to park their aircraft and prepare for the scrutineers. The route for the day was intended to be a scenic one, mostly north of the Loskop dam in the Groblersdal area which has many rivers and hills.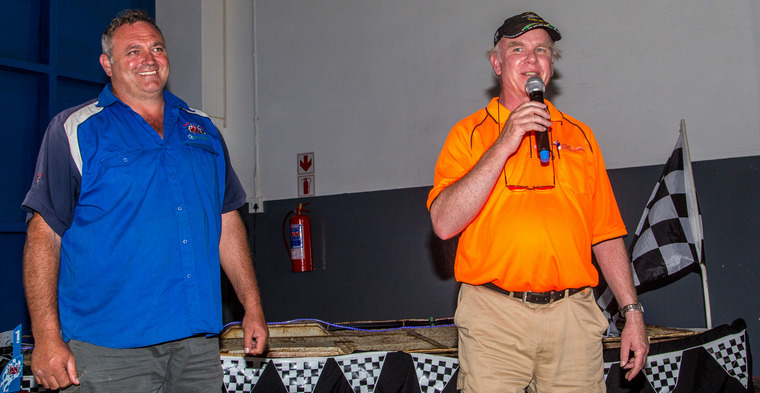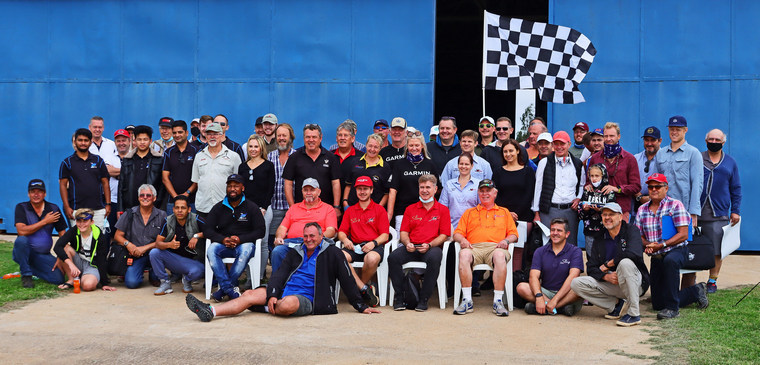 Saturday mornings briefing, competitors and organisers. Photos by Russell Dixon-Paver


Each team were supposed to get their envelops with their loggers 20 minutes prior take-off, somehow the papers hand-out team received an incorrect time list which showed an hour ahead of when the papers were supposed to be given. Although the first 5 aircraft were given their papers early, once the mistake was realised, a reset had to be brought into effect. 1st take-off was at 09h53 for the slowest aircraft and last take-off at 10h40, with planned arrival at 11h30.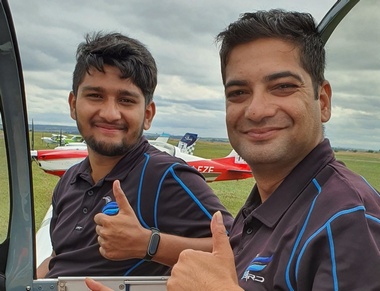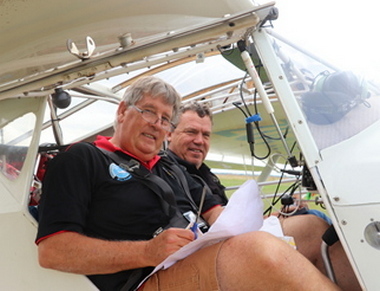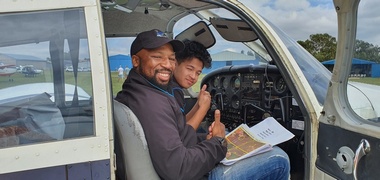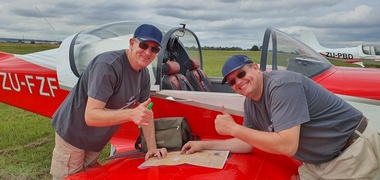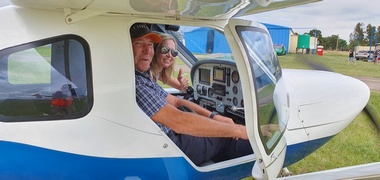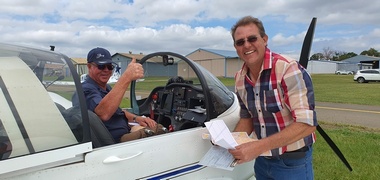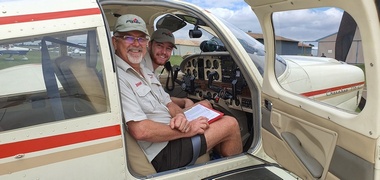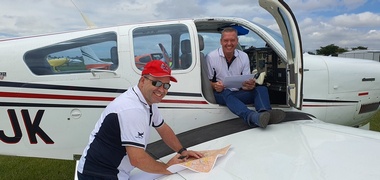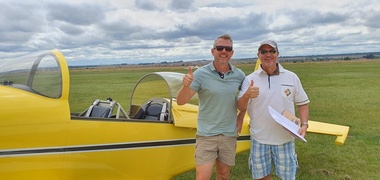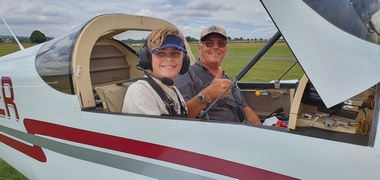 Some of the competitors prior to take off


With all the competitors off towards the northwest, the route had a mix of easy and challenging turnpoints, especially TP6 which required good navigating skills to find the canal and road crossing, from the results this turn point seems to have been difficult to home onto. With the windy conditions the aircraft coming over the line were more spread out than before, most competitors were over the line within 10 minutes, with one straggler that decided a visit to Nylstroom was in order….




The start line, slowest starts first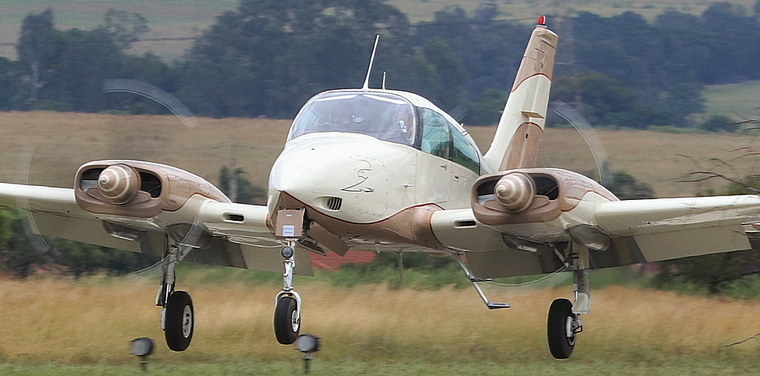 Some of the competing aircraft taking off


After all teams having returned and safe on the ground, the scoring team got to work to analyse the results, with the tracks for a number being quite accurate, although some had wobbles, three had got significantly lost.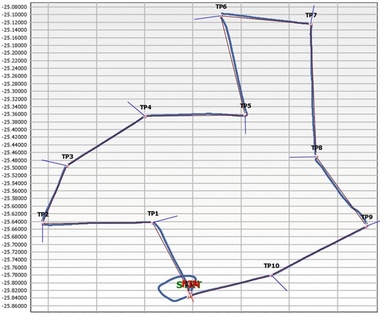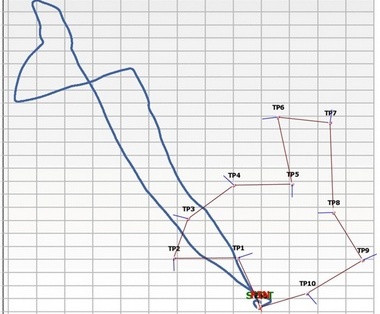 Nice perfect Track.................Oops - Went to Nylstroom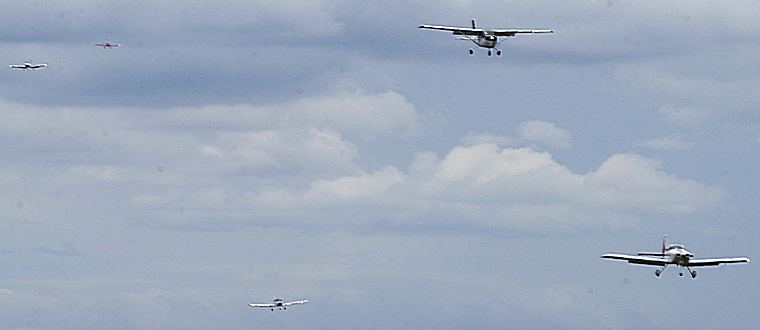 Some of the competing aircraft returning

Getting the results out on time proved to be a challenge, with changes in the scoring system there were some gremlins that had to be fixed, and that required extra time, also with impending bad weather moving in, many competitors started to depart. Aiming for a 2 pm prize-giving was just not working out, and with too few left at the field, it was decided to postpone the prize-giving to later the day, however a small prize giving was held for the most creative route - which turned out to be the Cessna 310 that found its way to Nylstroom, the trophy for the host club, and the most enthusiastic crew which went to ZS-PJK.

Given the additional time for scoring, and having to check of anomalies of the results, particularly the track error accuracy, it was decided to review gro-pro footage to assess any auto-pilot usage, which given the size of the files, could only be checked the next day. Once the review was done and no anomalies found, could the results be published, although some mistakes crept in when the prize giving information was compiled. Nevertheless the scores in the leader board results are correct (given on the website), and the trophies granted remain with the recipients as given.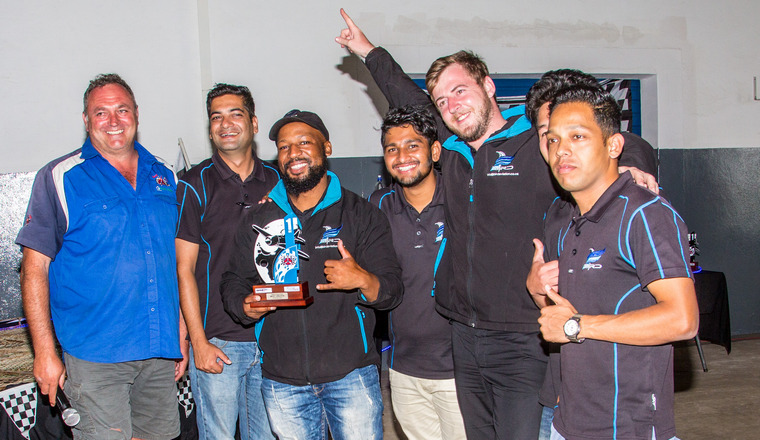 Best Flight School Bird Aviation. Photo by Russell Dixon Paver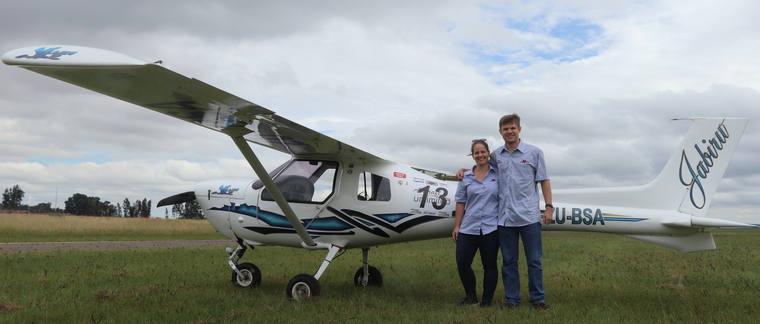 Best Husband and Wife Tarry and Iaan Myburg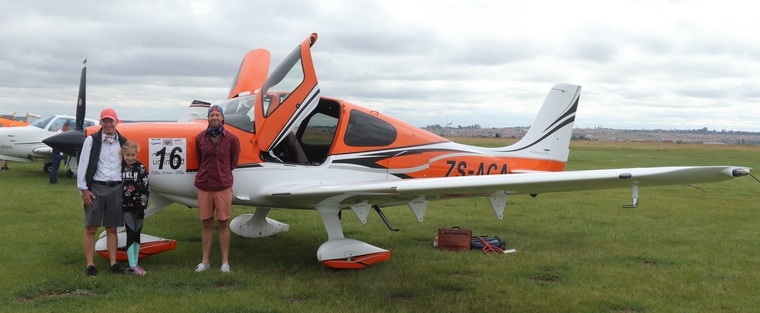 Best Father and Son Chris and Ryan Shillaw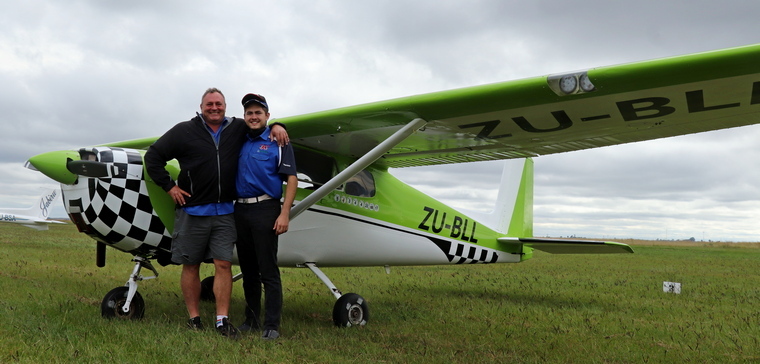 Best Nav 3rd place Promp Roofing Team B Jonty and Jonathan Esser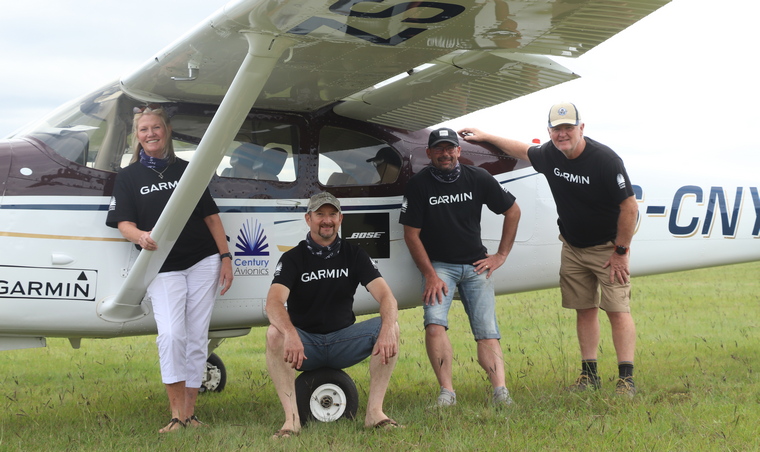 Best Nav 2nd place Team Century Avionics Mary de Klerk and Phil Wakely with Century's Mark and Sean between them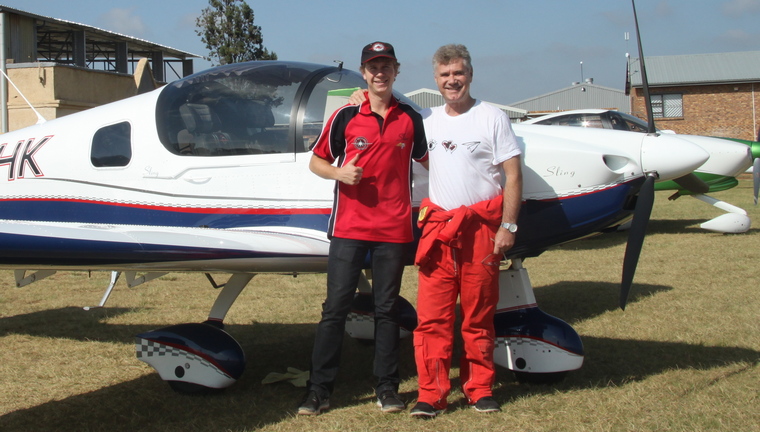 Best Nav 1 st place Team Fast Flame Henderik and Jandre Loots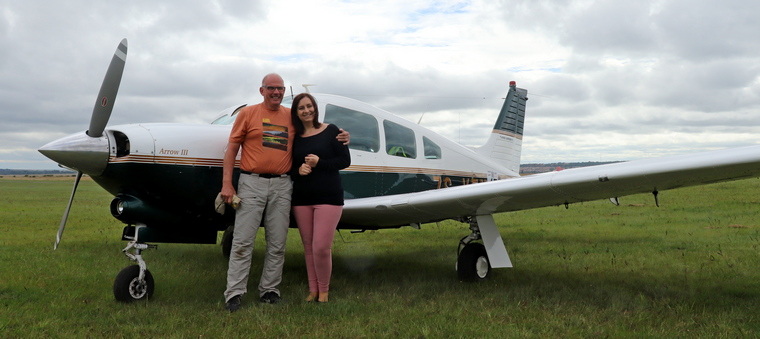 Best Speed 3rd place Team Aircraft Unlimited Roger Bozzoli and Nadine Brooker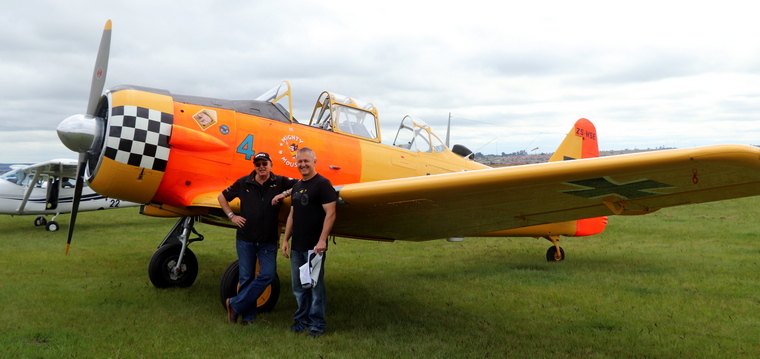 Best Speed 2nd Team Mighty Mouse John Sayers and Jack Coetzer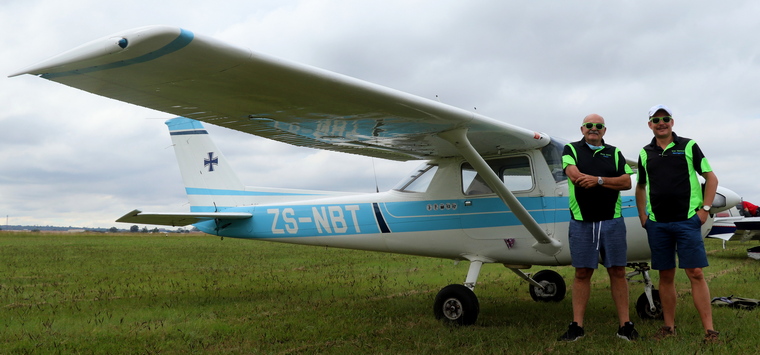 Best Speed 1st Team Mad Dogs Ron Strik and Von Hamman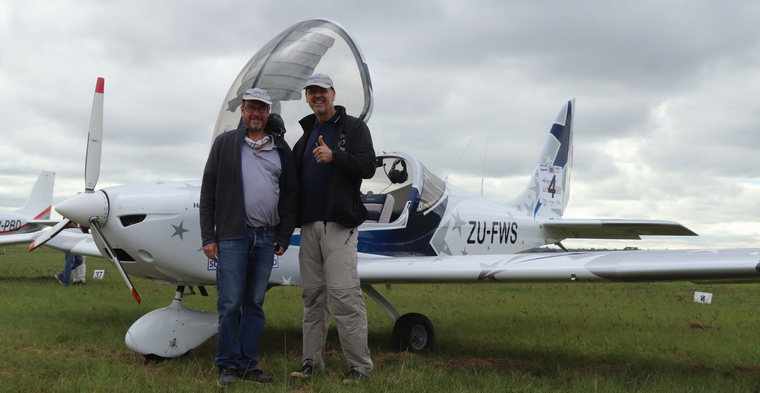 Overall 3rd JB Team JB Switchgear Leon Boutell and Martin Meyer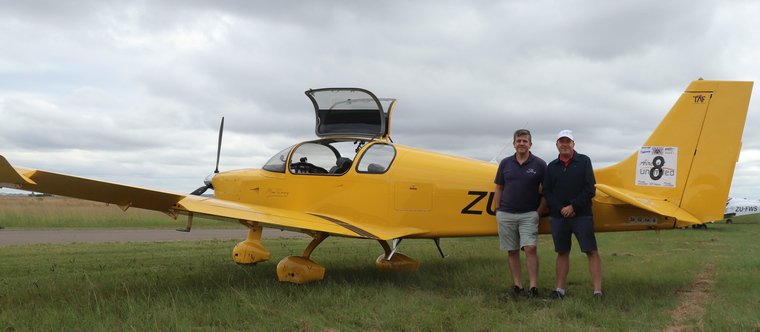 Overall 2nd Mike Blackburn and Steve B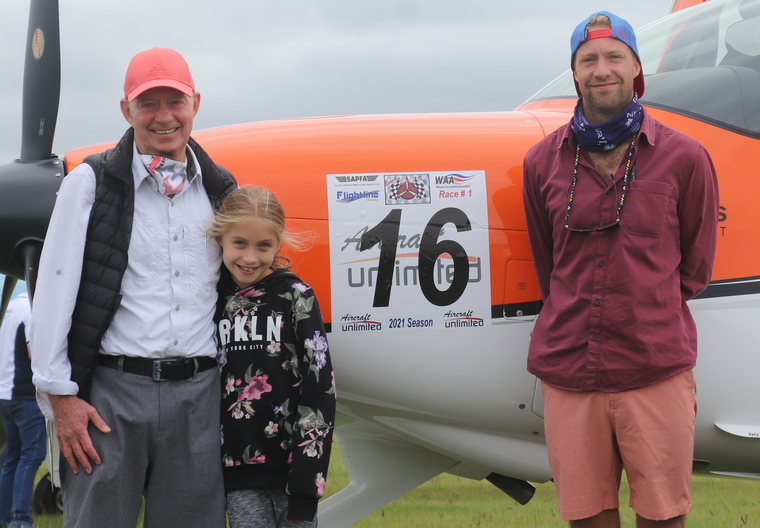 Overall winners of the Aircraft Unlimited Season 3 Race 1 Chris and Ray Shillaw


Many thanks to the Witbank Aeronautical Association for hosting this fantastic event, supporting with logistics and great meals available throughout the day, Nigel Musgrave as the Safety Officer, Dirk and Louna de Vos doing the scoring, Chester Chandler on handicapping, Marc Robinson with his team from Century Avionics for Scrutineering, Chareen Shillaw for taking on the role of starter, Clarissa for handing out competition papers to the crews. Although there were some hiccups, eventually the participants got airborne. Thanks also extended to Santjie White of the ARCC who always watches over us.

.
Also thanks to our sponsors, Aircraft Unlimited being our signature Speed Rally Brand Sponsor, Flightline Weekly for sponsoring the race numbers, and our team sponsors, Prompt Roofing, Fast Flame Laser cutting, Century Avionics, Beegle Micro trackers, JB Switchgear.


Our next Speed Rally event will be in Middelburg on the 27th of April 2021
---
---
SAPFA Rand Rally Training 30 Jan 2021
By Mary de Klerk

The 17th Rand Airport Challenge was scheduled to take place at Rand Airport on Saturday 30th Jan 2021. However, the weather gods were not playing ball this time, and with "Eloise" blanketing almost the entire country in clouds and rain, we had to revert to PLAN B.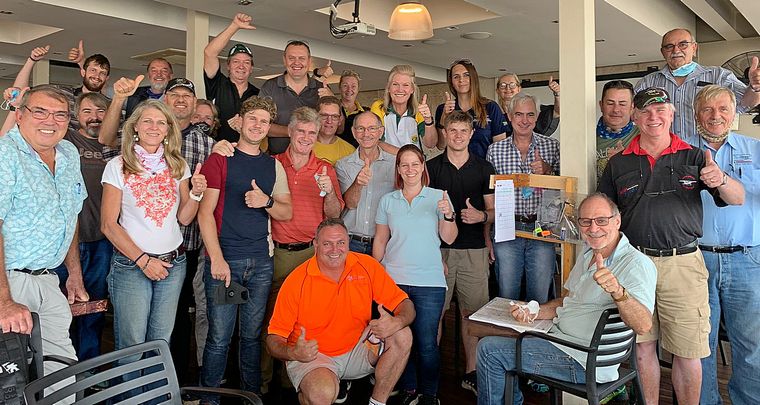 With the 22nd World Rally Flying Championships postponed to November 2021, the pressure is on to train and select the best Air Rally Team to represent South Africa at this prestigious event. With most of the "old guard" still in place and planning to take part, the opportunity, however, exists to bring some new fresh blood into the South African Rally Flying Team.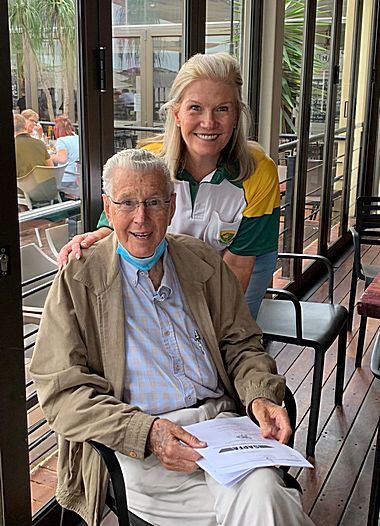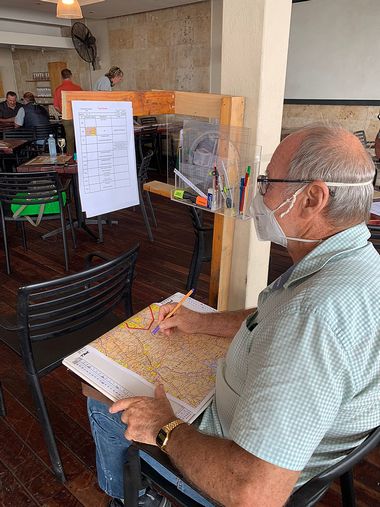 The sport of Rally Flying is not an easy sport. It requires an exceptionally strong "2-man" team of both Pilot and Navigator. Unlike most of the other Air Sporting disciplines which are flyable at competition level, as long as one member of the team is well trained, in Rally Flying a strong pilot without a strong navigator and vice versa is as good as having no team at all.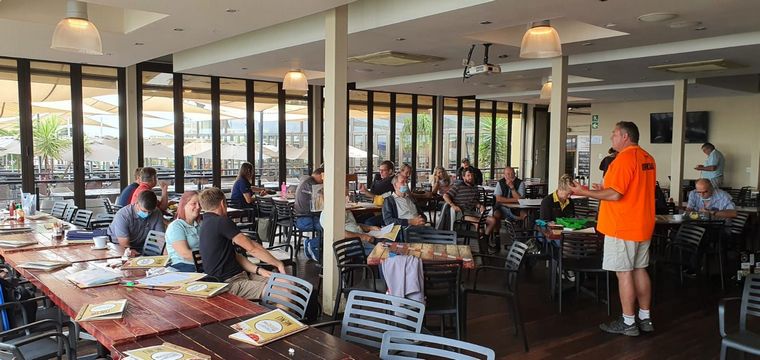 For this reason, Jonty Esser, who himself is a well-seasoned Protea Rally Flying Pilot (as well as a local aerobatic pilot) has been selected to coach the 2021 South African Flying Team to victory, as soon as they have been selected which should be post the National Championships in April 2021. Now for the official team to be selected, this team has to be sufficiently trained in order to fly to the required standard criteria as laid down by the world organisation.

The past decade (plus) of Fun Rally Programs, introduced by Frank Eckard and Mary de Klerk, and the more recent program of Speed Rallies introduced by Jonty Esser and Rob Jonkers, has produced a remarkably high standard of potential Protea Pilots and Navigators that now need to be put through the Rally Flying Grinder Training modules.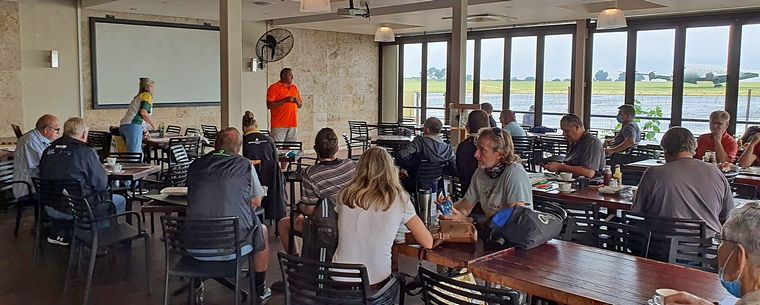 There was no better opportunity to start the 2021 training program than the cancelled Rand Airport Challenge on Saturday 30th Jan 2021. No less than 25 exceptionally keen potential Team members arrived for the "On The Ground" training Modules. The Pilots were herded off into a separate venue and were taught some intricacies of rally flying in terms of fine tuning their approaches and timing over turn points etc by Jonty. The navigators were put through their paces by 30 year rally veteran, Mary, who spent the best part of a 4 hour period unpacking the plotting procedures, tools required and methodologies with the teams. She was adequately assisted by the other Protea Rally veterans, Frank & Cally Eckard, Hans Schwebel, Ron Stirk, Rob Jonkers, Martin Meyer, and Sandi Goddard. It is interesting to note that even though the "old guard" have between them, thousands of hours of local, national and international experience, they still managed to find time to drive through to Rand in the rain in order to sharpen their own skills and assist with all the newbies. Hats off to you guys!

Also in attendance was the Aviation Legend Chester Chandler who, in his eighties now, still dedicated his day to visit and monitor the training session with great interest. He also stayed for the SAPFA AGM which was held at 14h00 and chaired by none other than Rob Jonkers with his dedicated SAPFA Committee members. We all welcomed Ian and Taryn Myburgh as new members onto the committee.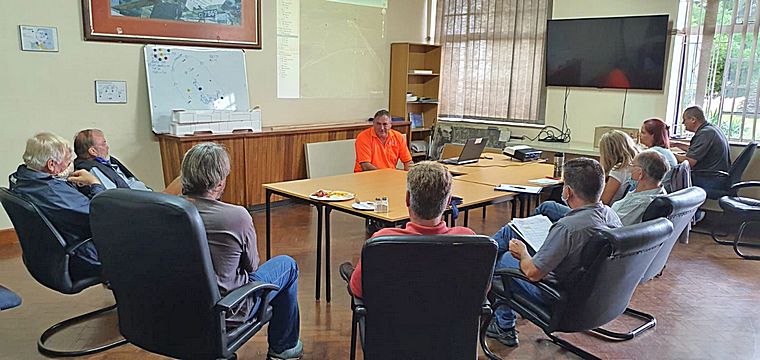 Rally Flying is a well renowned international sport recognised by the FAI. To represent one's country at an international event is a supreme achievement. I applaud everyone who is taking the sport seriously in order to up weight their own personal skills and achieve what many others would only dream to achieve. However, nothing comes easy - it all requires many hours of hard work and input in order to succeed. Training training training ……

Watch this space to monitor all the upcoming training sessions and who the final SOUTH AFRICAN RALLY FLYING TEAM to represent our beloved country and the World Championships this year will consist of.
---
---
Springs Season Finale Speed Navigation Rally - 28 Nov 2020
By Rob Jonkers
Photos by Willie Bodenstein, Rob Jonkers and Mary de Klerk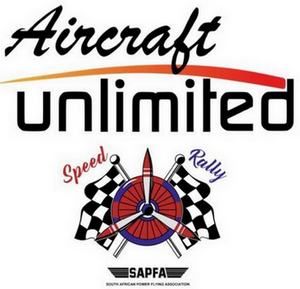 The South African Power Flying Association (SAPFA) together with our main sponsor Aircraft Unlimited, organised the 2020 season finale Speed Navigation Rally on Saturday 28th November 2020.

Although strictly not planned to have been the end of the 2nd season, 2020 being a year what it is, with reduced events, we decided to review the events and shorten the 6 per season to 4, so season 2 started and ended at Springsin order that season 3 would start and end in 2021.

For the overall season, scoring the best of 3 events would count towards the season's results.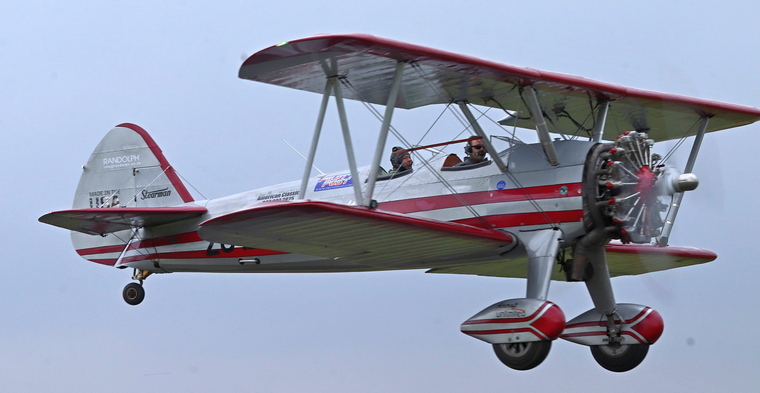 Ivan van der Schaar in the Aircraft Unlimited branded Boeing Stearman celebrated the event with a brief display


As the event has evolved, changes have been brought into play, all with the participation of the organisers and competitors. For this season the overall distance was reduced to 138 nm (from 150 nm), a handicap overspeed penalty was instituted and allowance to fly with a GPS track-made-good magnetic heading reference. For this final season 2 event, 32 entries were received. Springs 2019 was also the debut of the Grand-Prix circuit and was also planned this year, a format that has also evolved over the last four GPs.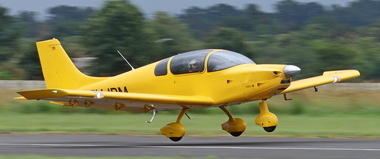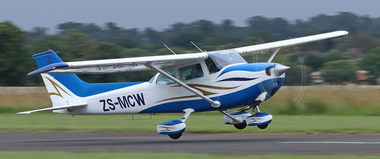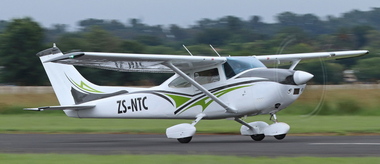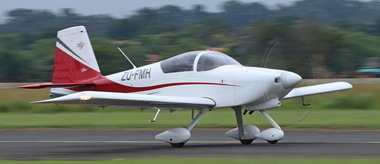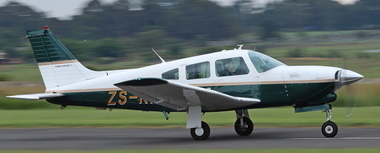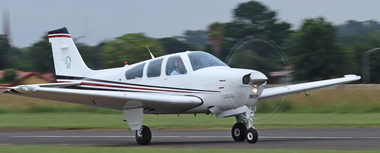 Some of the participating aircraft


The route was mostly to the east and south of the airfield, with a bit more of a scenic route than previous events going close to the Vaal Dam. The weather on Friday started out really well, the forecast giving an indication to late afternoon thundershowers, which were lurking towards the west. Test flights commenced with some new entries requiring test flights and some old entries wanting to retest to re-confirm their handicaps. The test flights were done by Mark Clulow and Sean Cronin and had to be curtailed after 3PM as the weather deteriorated.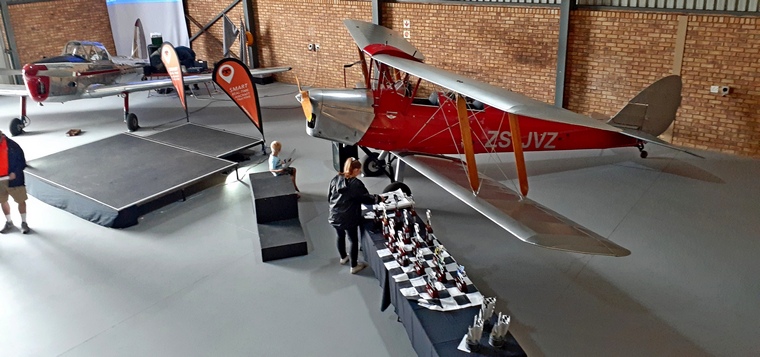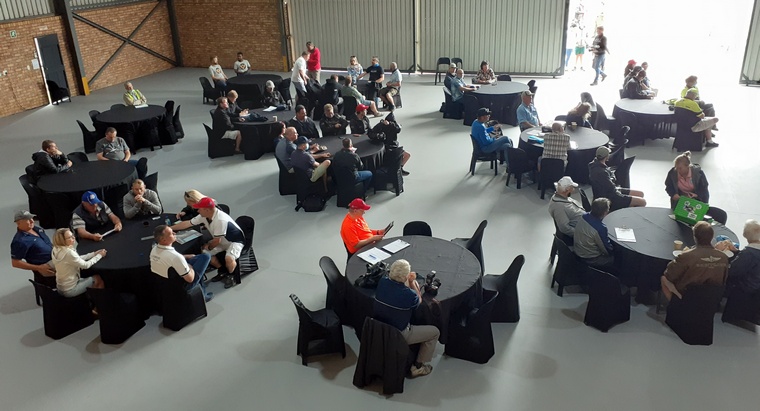 Saturday mornings briefing


At 18h30, Jonty Esser, as the MC introduced Rob Jonkers, who took to the stage and provided a briefing on what to expect for the next day in terms of the planned route, how many turn points, distance, departure and arrivals protocol. He also elaborated as to how the scoring system worked in terms of penalties as well as the expected weather conditions, which looked like overcast to start with but lifting after 9 am and 10+ kts of gusty northerly winds.




Aircraft on the field on Saturday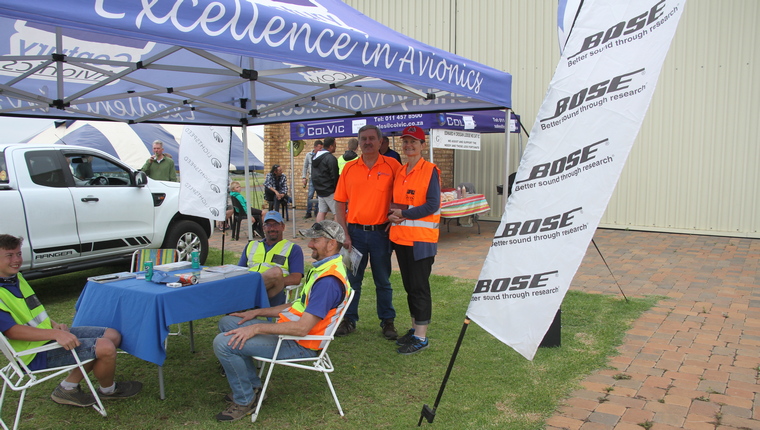 Mark & Shane from Century Avionics were on hand to block off / seal Aircraft GPS and autopilot systems. Scorers, Dirk and Louna de Vos taking a break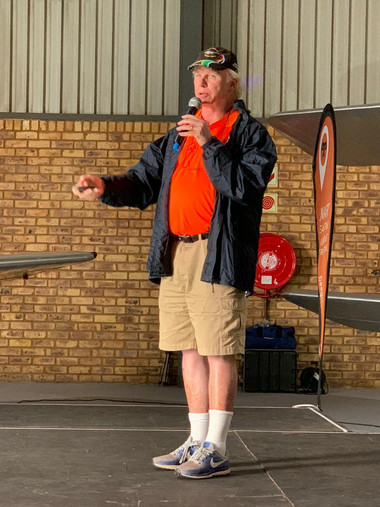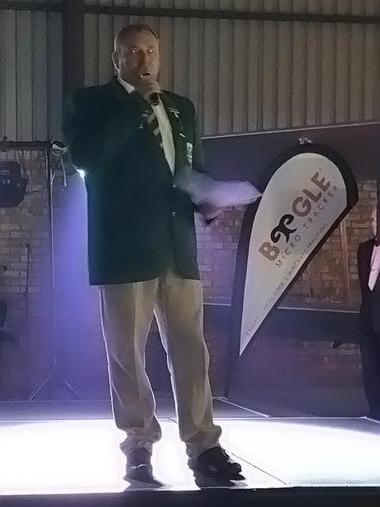 Rob during the Saturday briefing and Jonty during the Saturday evening's prize giving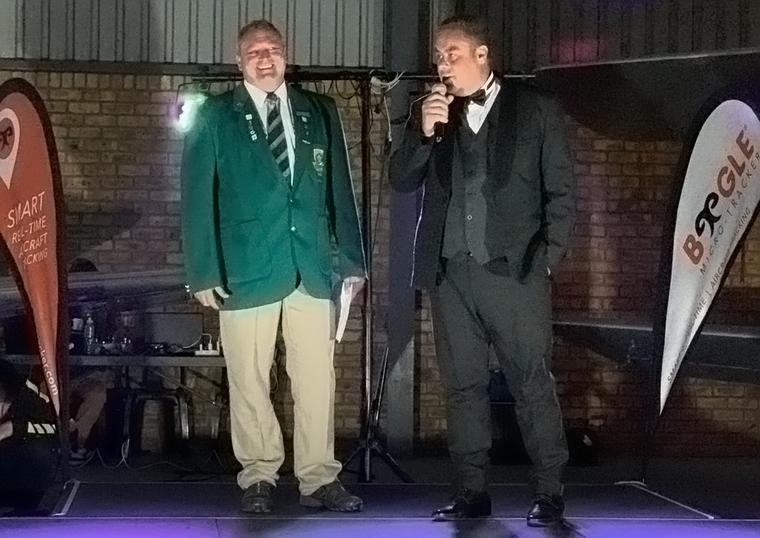 Jonty and owner Andrew Lester owner of the sponsors, Rand Airport based Aircraft Unlimited


Jonty Esser then took to the stage in his signature competing crew introductory theme song videos and race number handouts and also included introductions to the event and team sponsors. For this event, an event sponsor was secured in the form of Aircraft Unlimited, an AMO based at Rand Airport. Jonty proudly introduced the new owner Andrew Lester and his team and advised that they would also provide AMO support for aircraft during the event. Thereafter everybody was treated to a buffet meal before retiring for the evening to the music of one of the competitors Leon Joubert and his band re-living the 70s real music era.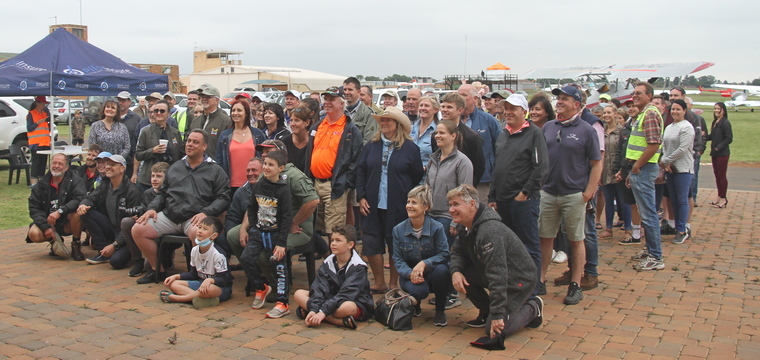 Competitors and organisers before the start of the racing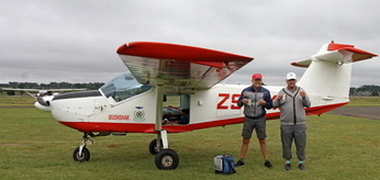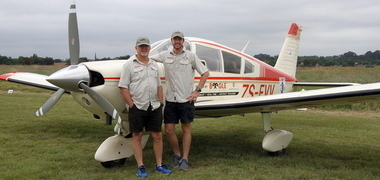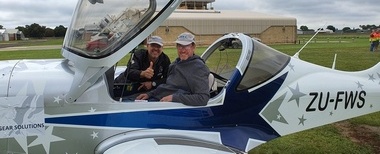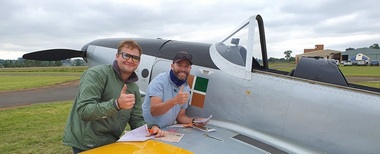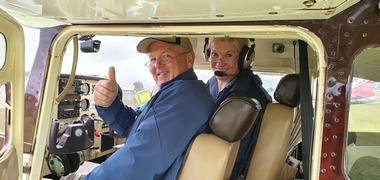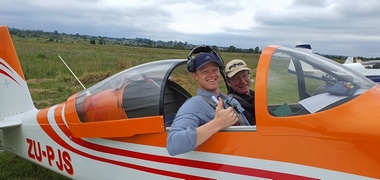 Some of the competitors prior to the start of the rally


Saturday morning dawned with windy and low overcast cloud conditions. The decision was made to start the briefing an hour later at 9 am with the start to commence an hour and a half later at 11h30 for an over the field arrival at 1 PM. Once the shortened briefing was over, everybody prepared their aircraft and got themselves sorted into the parking bays. Aircraft were then also scrutineered with all portable electronic devices sealed up in bags. For this event Mark & Shane from Century Avionics were on hand to also block off / seal Aircraft GPS and autopilot systems.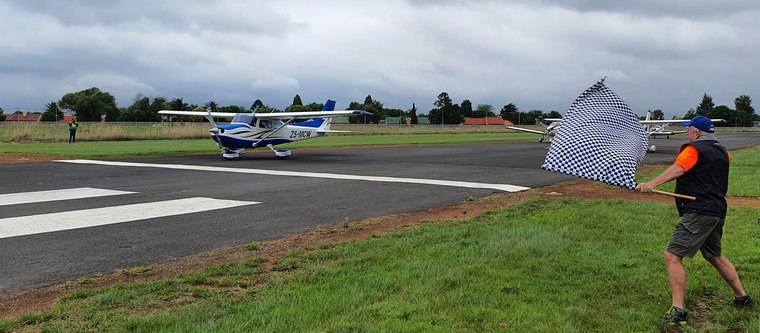 The start line manned by Sean Cronin and Mark Clulow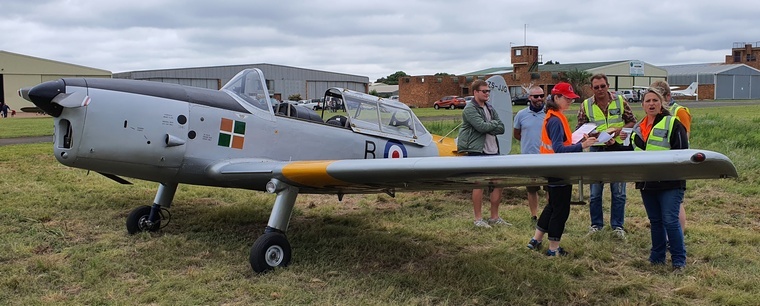 Scrutineers Lizelle, Louna, Bernhardt and Adrian were on hand to seal up all portable GPS capable devices


Scrutineers Lizelle, Louna, Bernhardt and Adrian were on hand to seal up all portable GPS capable devices, handing out papers at the allotted time and also checked the fuel tanks were full. Starters Mark Clulow and Sean Cronin set up at the starting line adjacent the threshold of Runway 03, who would release each aircraft at their allotted time slot. Each team then received their envelopes with their loggers at 20 minutes prior take-off time and taxied to the starting line within 10 minutes of brake release. 1st take-off was at 11h30 for the slowest aircraft and last take-off at 12h100 with a planned arrival at 1 PM.
With all the competitors off towards the east, the route had a mix of easy and challenging turn points with some river crossing also thrown into the mix and a little more scenic than previous Springs events. In general, the competitors found the course easy enough this time round, with the photographs now in larger format to identify the ground features more prominently and which can be seen in the results, where many had a clear round in their tracks. Just before 1PM, the first aircraft appeared over the line and was a little early. It was then followed by at least three quarters of the field all within a minute, with tail enders after that.
After all teams having returned, the scoring team got to work to analyse the results, completing the individual scores by 3 PM. A season ending gala prize-giving evening was arranged, which turned out really well as most of the teams stayed over or got dressed in their finest black tie. The evening got under way at around 6 with starter platters and then at 7 with Rob Jonkers showing everybody's tracks - from the most accurate to the most creative. Jonty had Andrew from Aircraft Unlimited and Rob Jonkers hand out certificates to each of the teams. Prize-giving got underway with three trophies going to best husband and wife team - Eric and Antoinette Addison, best Father and Son team - Apie & Frederik Kotzee and best school entry - Legend Sky from Rhino Park. The most creative track trophy went to the first-time entrant Chipmunk team of Grant Timms and Duncan Ritchie.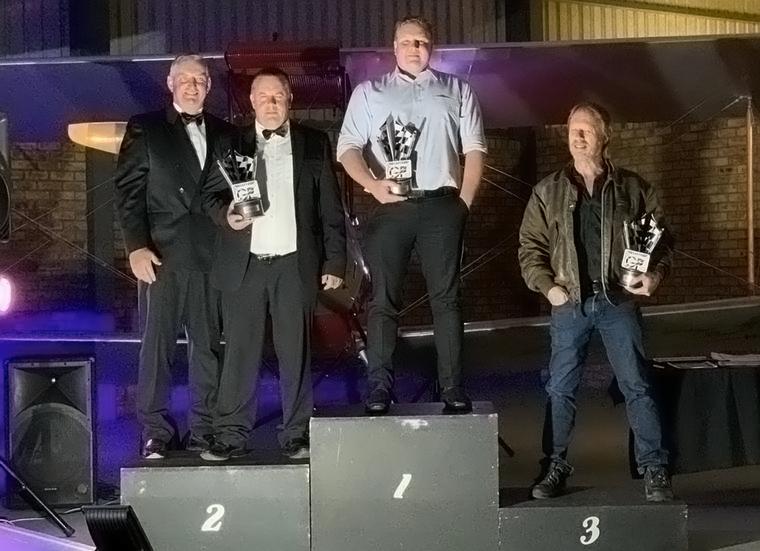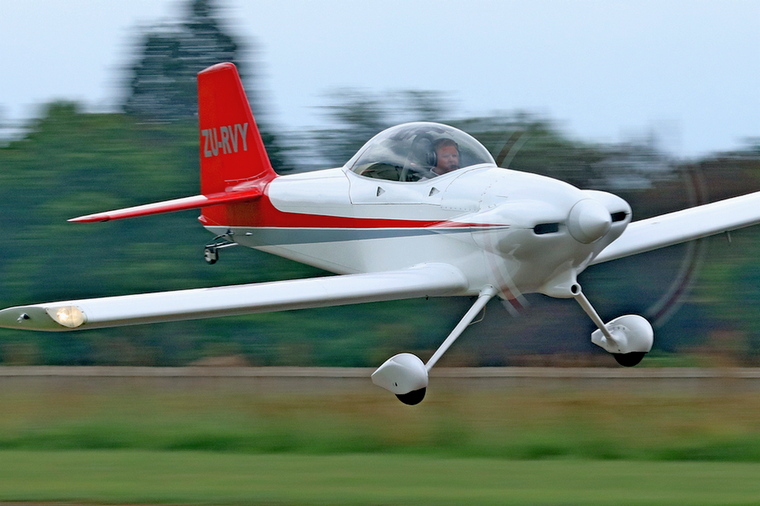 1st




2nd & 3rd

The GP race winners were Dane Laing in an RV4, Johan van Eeden & Cor Esterhuisen in an RV7 took 2nd place and Leon Joubert in a Lancair in 3rd place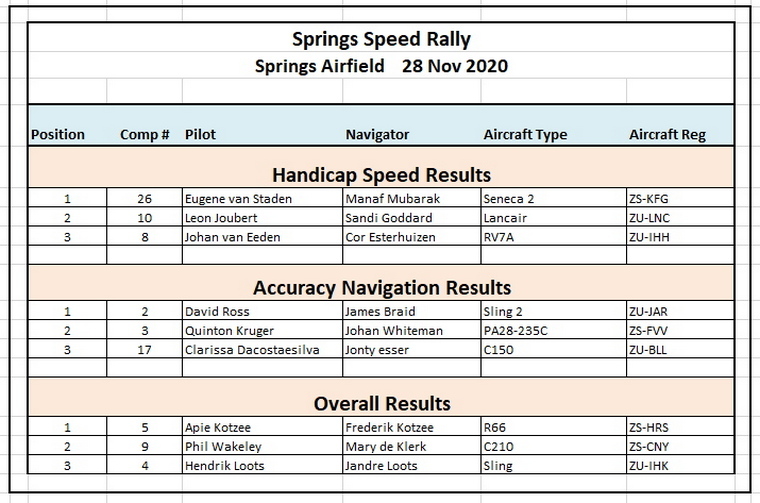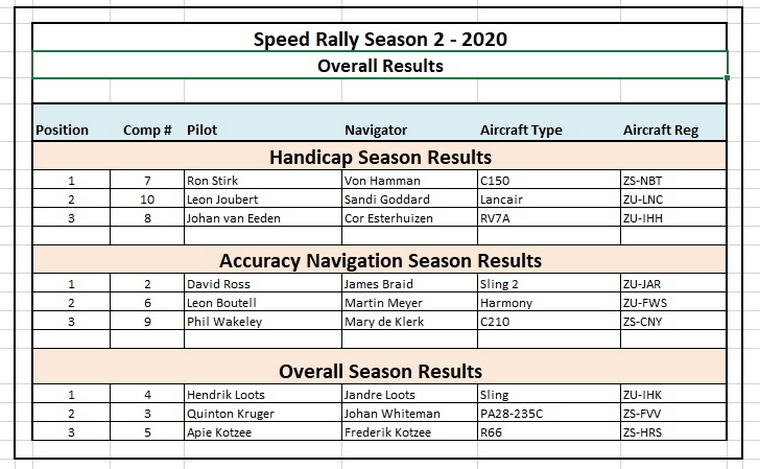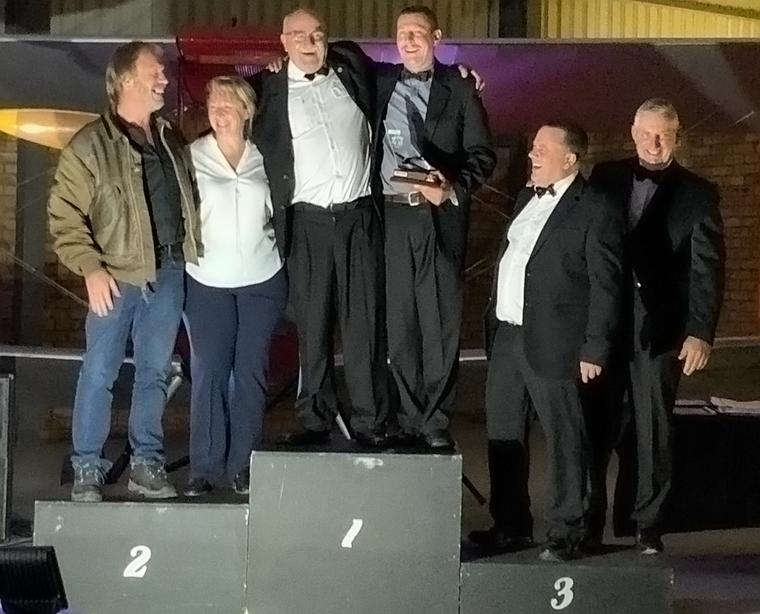 Handicap season results placings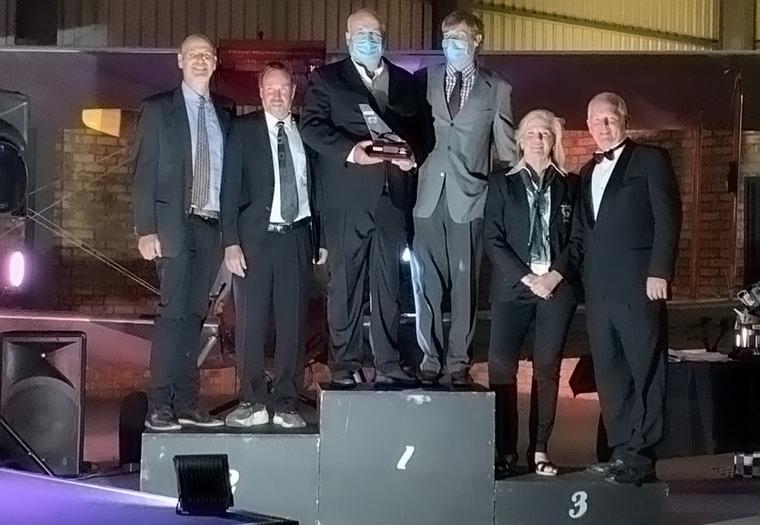 Accuracy navigation Season results placings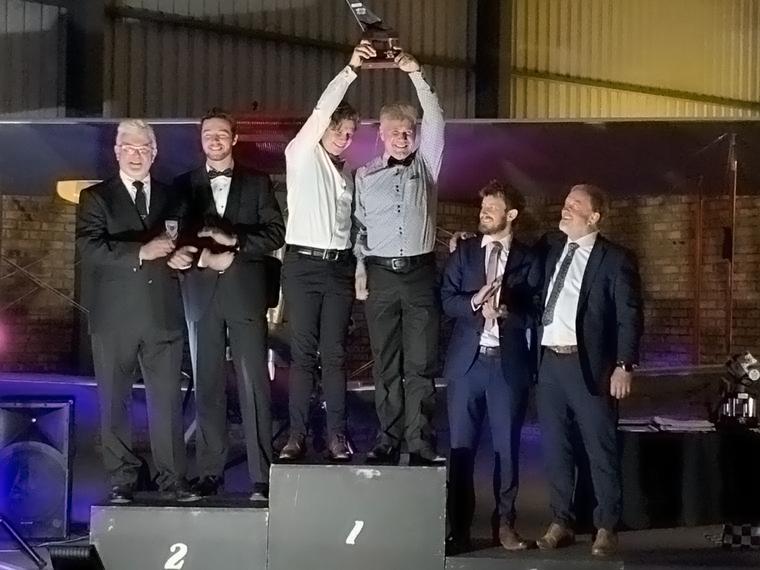 Season overall placings


This was followed by the Springs event results in navigation accuracy, handicap and overall. As this was the end of the 2nd season, the season results and winners in each of the categories were also announced. The final results for all the teams for Springs and the season will be posted on the Speed Rally website.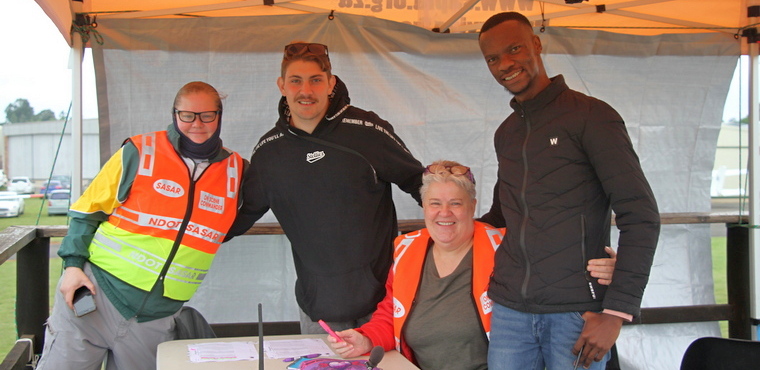 In the tower from Search and Rescue were Santjie White and daughter Jean Michelle with ATNS's Marcus Pitner and Gladwin Sekgobela


Jonty then thanked all the officials who put in the effort to make the Speed rally what it has become which included Adrian Cronje as the Chief Marshall, Nigel Musgrave as the Safety Officer, Dirk de Vos doing the scoring, Mark Clulow & Sean Cronin for doing test flights and starting, Marc & Shane for Century Avionics for Scrutineering, Lizelle Kruger, Louna de Vos, Bernhard Jansen for handing out competition papers to the crews as well as Scrutineering (we missed Chareen Shillaw who could not join this time round). Also thanked were Jonty & Lizelle & Sandy for putting together an awesome Friday evening launch event and Gala Dinner on Saturday, the ATNS team for managing the ATC for the weekend and Santjie White for being everybody's Guardian Angel. Thanks also to the East Rand Flying Club for the excellent airfield facilities.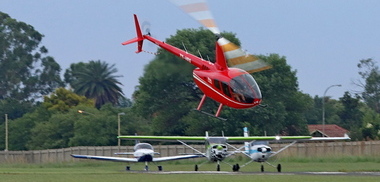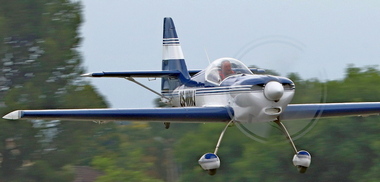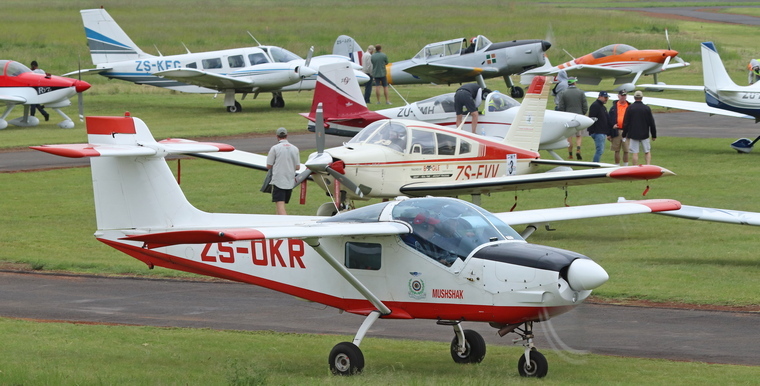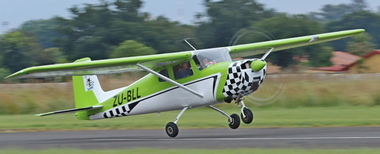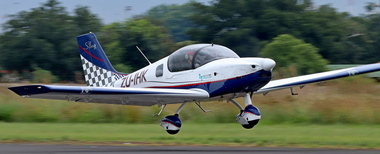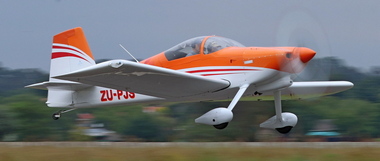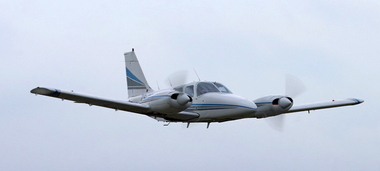 More participating aircraft


Also to the sponsors Aircraft Unlimited, who was the main sponsor of the event, Flightline Weekly for sponsoring the race numbers, team sponsors JB Electrical - Leon Bouttell and Martin Meyer, Fast Flame Laser Cutting - Hendrik & Jandre Loots and Johan van Eeden &Cor Estrehuiz, Beegle Micro Trackers - Quintin Kruger and Johan Whiteman, Prompt Roofing - Leon Joubert and Sandi Goddard

Our next Speed Rally event will be in Witbank in the 6th of February 2021.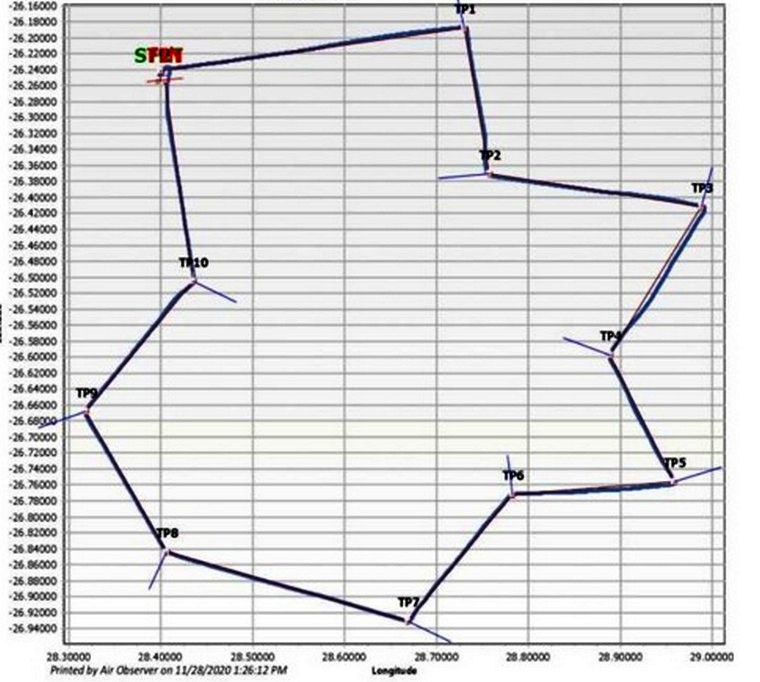 1st placed Race 5's accurate track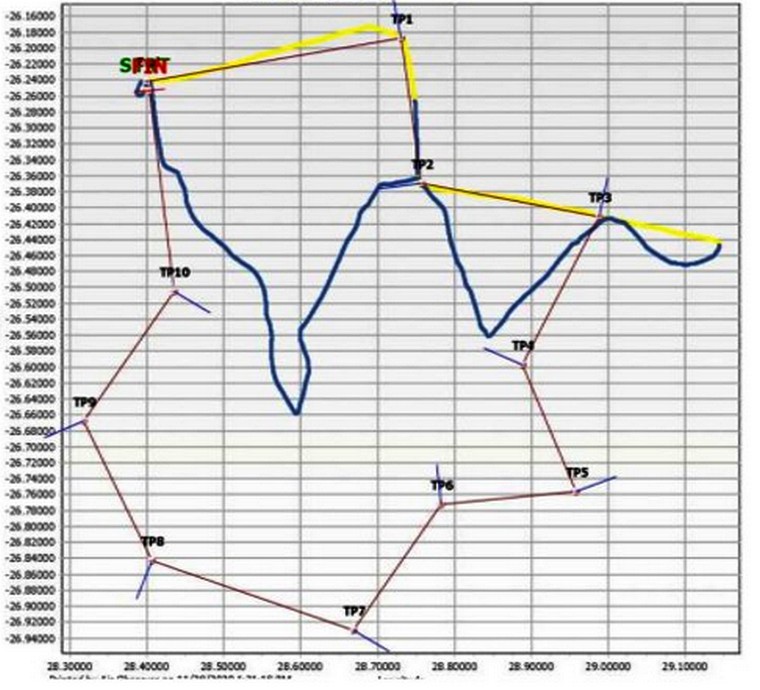 Oops - We went to Nigel instead
---
Virtual Rally Flying Competitions
SAPFA has introduced a virtual rally flying competitions where teams can practice their skills without burning avgas.

Here you can see us flying a route in the Stellenbosch area, and identifying an enroute photo.
If you want to join in the fun, take a look at our high speed server at http://www.worldrallyflying.com/virtual-flying/
You can sign up for these events at http://www.sapfa.co.za/index.php/component/competition/?view=pilot
---