Krugersdorp Shelia Taylor ANR Nav Rally 08.05.2021
By Russell Dixon-Paver
A cool winter morning dawned fair, with a huge cloud bank, just above the horizon to the South West. Teams and aviation enthusiasts started arriving and coffee and breakfast was soon flowing from the revamped kitchen in the clubhouse. Just before 09:00 the weather closed in with a short downpour, causing spirits to sink somewhat.

Not to be put off by the typical "HMS Krugersdorp four seasons", Francois Tolmay welcomed everyone on behalf of Krugersdorp Flying Club and Frank Eckard started the team briefing, outlining the really simple rules and stressing safety and having fun – "aviation with a purpose". He had not been speaking long, when the weather started to clear, so he gave some "clearing time" by giving a brief background and description of the various SAPFA events and how the Air Navigation Rally format fitted in. The point was made that provincial and national colours could be earned by achievements in the ANR discipline.
This gave time for the weather to clear for a delayed start and four teams participated. Due to the small field there were two "runs", one following features, like roads and landmarks, and one without, to add some extra challenge of skills to plan and fly. Cally distributed the map, photographs of the start and finish points, minute marker and printed team schedule of starting slots, including start point, start gate and end gate, with calculated distances and times, based on the nominated speed of each team. The small field also gave opportunity for Frank and Cally to spend time assisting each team with some coaching in their preparation, if needed.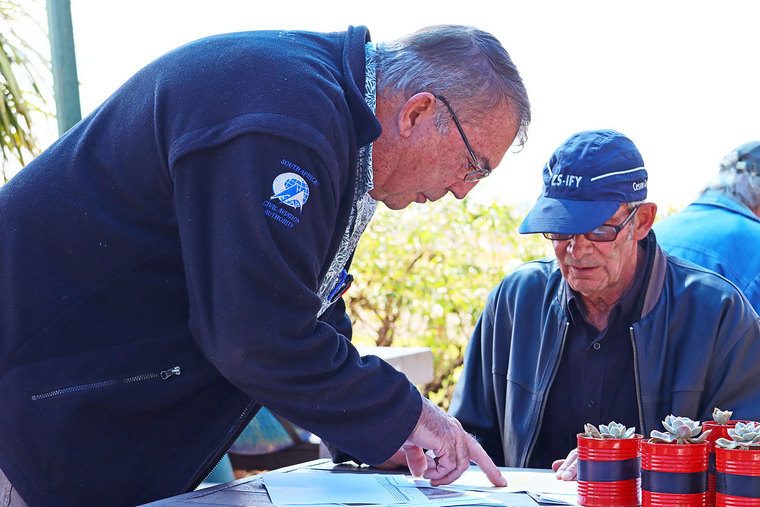 Cally making sure everyone has their documentation, while Frank concentrates on downloading tracking data and crunching the numbers.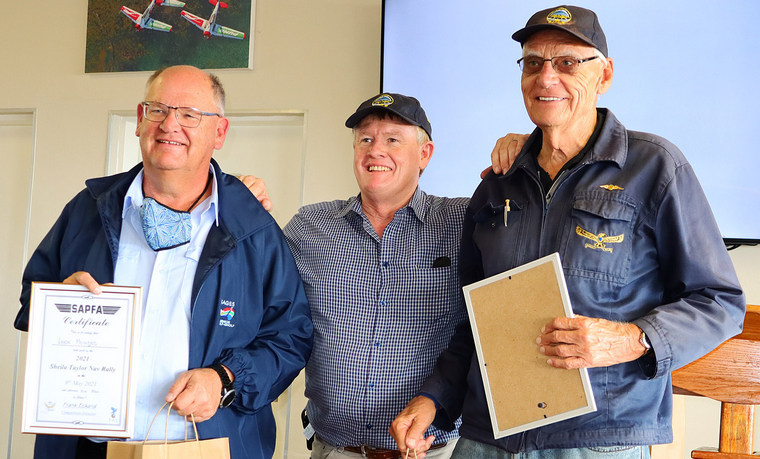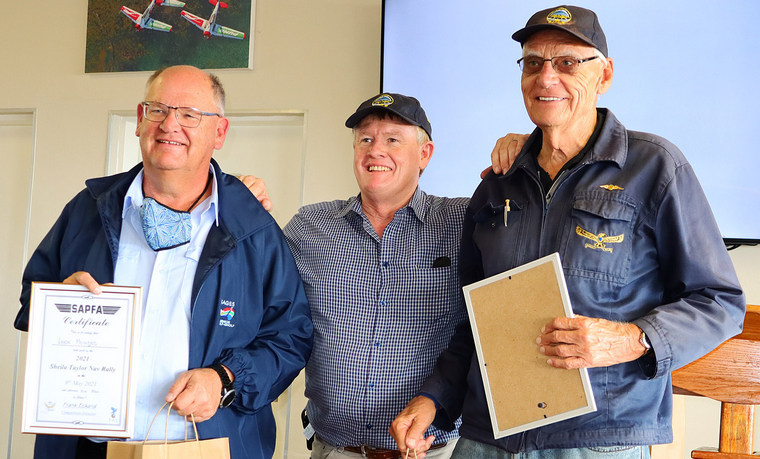 Results:
Run 1:
Rank Points Pilot Navigator
1 1025 John Shaw Chris Shaw
2 1192 Gert Verbaan Francois Tolmay
3 1229 Johann Nel Susan Nel
4 3675 Leon Meintjies Tobie Weeber
Run 2:
Rank Points Pilot Navigator
1 1532 John Shaw Chris Shaw
2 1821 Leon Meintjies Tobie Weeber
3 2147 Gert Verbaan Francois Tolmay
Overall:
Rank Points Pilot Navigator
1 2557 John Shaw Chris Shaw
2 3339 Gert Verbaan Francois Tolmay
3 5496 Leon Meintjies Tobie Weeber
Thanks to Krugersdorp Flying Club for hosting the event, Frank and Cally for the event organisation, sponsors and CAA representatives for a safe, fun and well-run event.